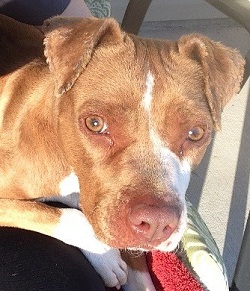 Duchess lived on a chain in the mud and dirt with no shelter in the freezing winters and sweltering summers with very little food and water for her entire two years of life. A nice woman saw her, since they wouldn't give her away she offered to buy Duchess. Duchess had never been in a car before and became scared when they began to drive away. Duchess quickly warmed up after being fed and she realized the woman was only trying to help.
Once Duchess became more comfortable she brought her to Dr. Liz at Old Hammond Vet. Dr. Liz said Duchess had terrible heartworms and an enlarged spleen, but she couldn't do anything until Duchess gained 15 to 20 pounds. Her foster mom began feeding Duchess as much as she could eat. Duchess quickly put on weight, but when she went back to the vet Dr. Liz thought she might be pregnant. We brought Duchess to Sherwood South for a sonogram. There were no puppies, but her spleen was about three times the size of a normal spleen. A couple days later Dr. Liz removed Duchess's spleen when she spayed her. The spleen was sent to LSU for analysis.
After surgery Duchess's blood pressure and blood counts fell - she was in critical condition. Sherwood South gave her a blood transfusion and kept her in the hospital for a few days. Duchess's blood counts and blood pressure came up and she was allowed to go home. After Duchess had been home for a few days we received devastating news. The analysis of her spleen at LSU showed Duchess had cancer, due to all of her health issues there was nothing that could be done. Her foster mom said she would pamper Duchess for whatever time she had left.
Duchess was rushed to Sherwood South in the early morning hours of February 28, 2015 because she was gasping for breath. There was nothing the vets could do other than give her as peaceful of a passing as possible. We hoped she would have more time off the chain with love and happiness, but we are thankful for every day she did have.