Diamond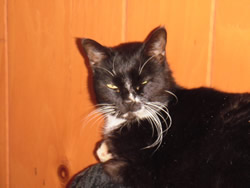 A very special girl that recently passed away due to cancer. She was rescued by APAWS about 6 months ago by a very sweet lady who called to say her neighbor had thrown Diamond out (a declawed cat) and Diamond was injured and living in a canal. The lady was unemployed and could not afford to take her to the vet. We resuced Diamond and she was in very bad shape. She tested FIV+, her mouth was infected, and her paws were swollen up three times their normal size. We treated her and her mouth healed and her paws reduced, but during her testing we discovered she had cancer. She at least had 6 months to get love and attention and a soft bed to sleep on. She was the sweetest cat I have ever had the honor to foster. No matter what she was going through (even when she first arrived) she was purring and just wanting love. Even at the end she was purring and just before she passed she leaned up to give me a head bonk. I will miss her.
Jester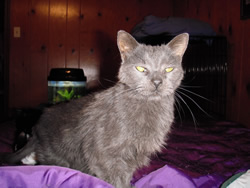 Jester was rescued by APAWS about 3 years ago when a woman called saying that she had a diabetic cat that she did not want to give insulin to anymore. She said that if we didn't take him she was going to euthanize him. I took the boy in and he was a very sweet boy who loved to give kisses. About two months ago he was diagnosed with cancer. He had masses around his heart that were producing fluid and causing him difficulty breathing. We drained the fluid and he felt better than he had in months. He made it until the beginning of September when the masses had grown and they were making it too hard for him to breathe. I took him to the vet and the very last thing he did when we were giving him the shot was he lifted his head up and gave me one last Jester kiss.

Reese
Update September 6, 2010 - Unfortunately Reese passed away. The dehydration was severe and he was too young and small to fight it.
Reese is two and a half months old. He was pulled from Shreveport Animal Control because he was due for euthanasia. He became very lethargic in his foster home and was taken to the vet.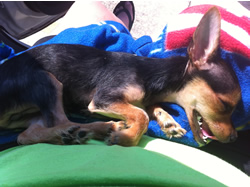 He has severe coccidia, a parasite which causes diarrhea and dehydration. The amount of coccidia in this dog shocked the vet who has been practicing for several years. In older, larger dogs coccidia is easily treated and is not much more than an inconvenience. In a puppy this young and small the dehydration can kill them. Reese is being fostered by a veterinary technician and will be kept on medication and fluids. We hope this little boy will pull through and be running and playing like a normal puppy in a few days!
Our Cat Foster Chair received a call regarding a kitten that was hit by a car at an apartment complex.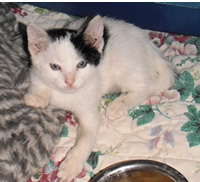 Upon arriving at the rental office the maintenance man for the complex brought the kitten out. He stated that while he was on the property he saw a car hit the kitten. The kitten could not get up and was struggling to get out of the road when another car intentionally swerved to run over the kitten. Fortunately the kind man ran into the road and snatched the kitten up before the car could hit it. The kitten was immediately rushed to our vet clinic. By a miracle the kitten sustained no broken bones. Unfortunately, either due to being hit or struggling to survive the kitten tore the nerve in his front leg and it is now useless. The veterinarian stated there is a 25% chance the nerve can regenerate and the kitten would be able to walk on the leg again. Otherwise his front leg will have to be amputated. We are going to give the kitten a chance to see if his leg heals, but if it is not able to heal we will have to remove the leg.
Tesha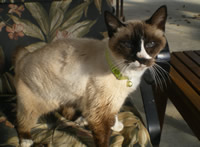 Tesha was rescued by a wildlife rehabilitator in the country where she was apparently abandoned. She appears to be over 20 years old, she is declawed and almost totally deaf. When she was found she was in late stages of kidney failure and was given supportive care and love until it was her time to pass on.