Message from Ernie's foster mom - The vet released Ernie from her care and felt he was healthy enough to undergo his neuter. We wanted to get his neuter done as soon as possible so he could go up for adoption and into his forever home! On March 15, 2011 I brought Ernie into the vet office for his neuter. While checking him in I held him as he purred and showed all the techs how well his tummy had healed. Later that day a tearful vet called me to let me know Ernie passed away during surgery. He did fine during the surgery, but when they started bringing him out of the anesthesia he wouldn't start breathing on his own. The vet and her staff tried to resuscitate him for 30 minutes using CPR and epinephrine. I know they did everything they could and his death was unforeseen. He overcame many obstacles and won the heart of everyone he met. Through all of his pain he never stopped purring and was a true joy. I'm thankful he passed under anesthesia and never felt any pain. The staff at Old Hammond Vet Hospital, especially Dr. Liz, were very supportive and I know he was surrounded by love when he passed. I'm glad we had a chance to help him, I just wish he wouldn't have left so soon.
Update - Ernie is doing really well! He has been released from the vet and only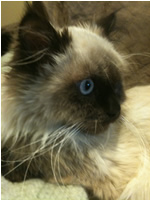 has a couple small scabs left. He is now a normal weight and is able to play with the other foster kitties. He enjoys playing, but mostly enjoys lounging on a soft cat bed and watching the activity in the house.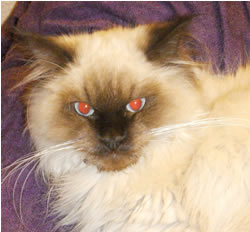 On February 17, 2011 one of our volunteers was approached by her neighbor. A kitten was hiding near his house and he thought the kitten was injured. He saw a mass hanging under the kitten and assumed he had been hit by a car. Our volunteer was able to put the kitten in a carrier and upon closer inspection she realized the mass was actually a large amount of fecal matter. She also noticed the kitten was very thin. The kitten was immediately brought to our cat foster co-chair to determine if emergency vet care was required.
Our cat foster chair and co-chair began cleaning the kitten. After removing some of the fecal matter that was on his body they saw several maggots and what appeared to be broken skin. They immediately put him in a carrier and brought him to Baton Rouge Pet Emergency. He was seen immediately and their fears were confirmed. He is missing a large amount of skin on his abdomen. There is too much missing skin to attempt sutures. He also has a laceration on his back and inflamed skin around his rectum and genitals. It will probably take several weeks for his wounds to heal. The veterinarian cleaned him up and prescribed three different medications, including oral and topical antibiotics. We were then able to get him to his foster home.
He is certainly in a lot of pain, but seems very happy to be inside! He immediately crawled into the bed given to him and curled up purring. Under his fluffy fur he is skin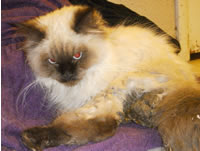 and bones. He has obviously not eaten properly in a very long time. We estimate his age to be between 3 and 4 months. He does have fleas, but no intestinal worms! He has been treated for the fleas and is on antibiotics. He is also getting frequent cleanings of his abdomen with antibacterial ointment applied. The vet is mostly worried about keeping the area clean and getting some food into him! He is also a bit dehydrated so sub-q fluids will be given until he is able to stay hydrated.
Through all of this he is happy to have attention and has been a very good patient. We decided to name him Ernie because he is the first special needs rescue that we have taken in since a couple of weeks ago when we were privileged to meet and have dinner with Ernie Hudson. Mr. Hudson was kind enough to donate autographs pictures to help with our Ghostbusters fundraiser. While meeting him we found him to be a first class gentleman and just all around great guy. So, in honor of Mr. Ernie Hudson we have named this very special boy Ernie!