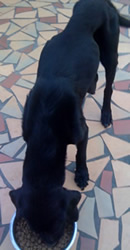 Update February 15, 2012 - Unfortunately everything was just too much for her body. Dixie passed away the evening of February 15th. We are sad to see her go this way, but we tried everything we could. We are thankful for the caring treatment she recieved at Garden District Animal Clinic.
Update February 14, 2012 - Dixie's foster mom found blood coming out of her mouth. Dixie was rushed to the vet where they determined she has blood in her lungs. The vet isn't sure what is causing it, it could be she threw an embolism or cancer. The vet was not able to get her blood to clot with medication, so a blood transfusion was done the evening of the 14th. The transfusion is the last thing they can try, if it doesn't work there isn't anything else that can be done. We hope Dixie pulls through, she deserves much more time of being a happy dog!
Dixie was found starving and suffering from large mammary tumors. We discovered she had been used for breeding,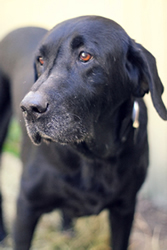 and once she could no longer be bred, her owner had no use for her and abandoned her to die. We felt this senior girl deserved a chance at just being a dog!
In her short time with us, she has put on weight and is no longer emaciated. She also had two surgeries to remove the mammary tumors. We don't think she'll need another one, but only time will tell. Throughout this entire experience, she has proven to be a loving and sweet dog, and maybe for the first time, she seems to be enjoying her life. Due to her advanced age we aren't expecting her to be adopted. If she isn't, she will remain with her foster mom who will love her and care for her until she passes naturally.
Dixie's vet care to this point totals $1,342.65, which includes a very generous discount from the vet. We value all of our animals and want to ensure that they have the best quality of life that we can provide. We would greatly appreciate the help and support of anyone able to donate in support of Dixie's vet bills. If you would like to donate, please click here.