| | |
| --- | --- |
| | |

We are very sad to report our beloved foster and APAWS ambassador, Dante, crossed the Rainbow Bridge Saturday, August 17th after his final adoption day. Dante never met a stranger and was loved by everyone who met him. He will be greatly missed not only by his mom and our volunteers, but also by many members of the public who frequently came to see him at APAWS events. We don't know about his life prior to APAWS, but we know he flourished under his foster mom's care.

When Dante was rescued from East Baton Rouge animal control, he had a cough the vets assumed was an upper respiratory infection caused by his time at the shelter. After the antibiotics didn't work more tests were done which revealed lung cancer. Dante underwent surgery to remove the tumor and most of one lung. He did well for many months, but then began coughing again. We got the upsetting news his cancer had returned and was inoperable. His foster mom did everything she could to make him comfortable, he received medication for the pain, daily hamburgers from McDonald's and his absolute favorite - puppy lattes from Starbucks.
Dante's Story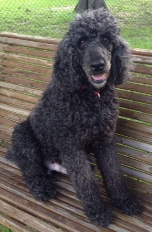 We received some heartbreaking news about Dante, our so called APAWS Ambassador. He has a tumor on his lung. We will find out Tuesday if it's malignant or not. Either way, he will require surgery to remove it. It's compromising his lung function and he's not getting enough oxygen. Yesterday, after getting out of the truck for work with his foster mom (who is planning on adopting him), he started coughing and then fell over on his side. She immediately rushed him to Sherwood South and they began a series of X-rays and CT scans to diagnose the problem. It was then confirmed that he indeed has a tumor. It seems that they'll need to perform surgery to remove at least 2, maybe 3, of his lung lobes on one side. This of course will be an involved surgery and very expensive, even with rescue rates.

For those of you that have attended any of the APAWS adoption days in the last few months, you have probably seen Dante. It's actually quite hard to miss him with his large stature and big, goofy smile. He is a standard poodle who was dumped by a heartless breeder at the shelter here in Baton Rouge. When he was rescued by his foster mom, he had a fever of 104 degrees and was coughing and extremely dehydrated. At the time, the vets thought he had a serious respiratory infection. He has been on every antibiotic possible and his chronic cough has persisted. He had X-rays done earlier in the week and it was initially believed he had a diaphragmatic hernia. We were waiting to meet with the doctors at Sherwood South to review the X-rays when he had his fall. From the day he was rescued, he's shown nothing but love and gratitude to anyone and everyone he's come into contact with. He shares a very special bond with his foster mom and goes to work with her everyday. He is also at EVERY APAWS adoption event. He is such a testament to how loving, grateful, and amazing rescue animals can be. In his time with us, he has become a certified therapy dog and he and his foster mom visit with cancer patients at Mary Bird Perkins. When he came into our rescue, we knew that he was special and now we can't imagine being without him. Please help us save Dante. If you would like to donate to Dante's vet care please do so here. His foster mom has vowed to do whatever it takes to save him but we'd like to help her with at least some of the costs. Any amount would be greatly appreciated; no matter how small. If you can't donate, we understand. Instead please share the amazing dog's story and say a little prayer for him. This is very dear to our hearts as Dante's foster mom, one of our regular volunteers, was diagnosed with breast cancer in late 2008, had a mastectomy, and began chemo in March of 2009. She beat cancer and now it's Dante's turn to beat it as well!
| | | |
| --- | --- | --- |
| | | |
| Dante and his foster mom, Kelly | Dante having fun at adoption day | Dante ready to go do therapy work |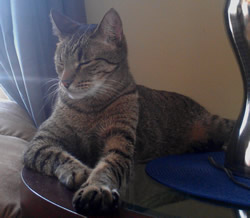 Thomas was rescued after being abandoned at a veterinary clinic.  The vet techs took care of him until we were able to pick him up.  They named him Mr. Tumnus after the character in The Chronicles of Narnia.  

Thomas was very sweet, but suffered from Inflammatory Bowel Disease.  Everyone who initially expressed in him did not want to deal with the special needs caused by his IBD.  We had almost given up on him finding his special person when a friend of his foster mom said she would give him a shot.  She fell in love with him immediately!  She didn't mind the extra care needed due to his IBD.  She renamed him Thomas,  and made him a part of her family.

Thomas was healthy for quite a while, then he started having issues with his mouth.  He seemed to have an inflammatory condition in his mouth that made eating hard food difficult.  He began receiving antibiotic and steroid injections from the vet to give him some relief.  When the injections seemed to not help the vet removed several teeth that were infected.  Thomas was better for a little while, then he stopped eating canned food and baby food.

Thomas had to be hospitalized when fluid gathered on his chest.  The vet removed the fluid and sent it off to be tested.  While waiting for the test x-rays were taken and supportive care given in the hospital.  The test came back several days later with the worst possible news, Thomas had a very aggressive form of cancer.  There was no treatment available.  The fluid gathered again on his chest causing his heart to stop.  The vet was able to remove the fluid and get his heart beating again by using CPR.  Because the fluid gathered so quickly the vet recommended euthanasia.  

Thomas was able to go home for a night with his foster mom.  We knew there was a risk he would pass away, but felt it was important for both of them to have one last night together.  The next morning she brought Thomas to the vet and he was euthanized.  He went quickly and peacefully in his mom's arms.  

Thomas passed away May 3rd, 2013.