April 2011
Waggy Hour at The Bulldog
On April 14th, from 6pm to 8pm, please join APAWS at The Bulldog bar in the Southdowns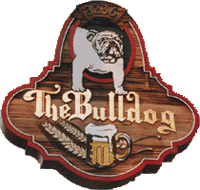 Shopping Center. We will be having our first Waggy Hour fundraiser! The Bulldog invites all leashed dogs (along with their humans) to enjoy the dog-friendly patio and great social atmosphere. This laid-back event will include happy hour specials and raffles. Come take advantage of the beer, the food, and a beautiful spring evening at this fun location. See you there!
Tour for Life with North Shore Animal League
The Tour For Life 2011 will be held on Sunday, April the 3rd from 11a.m.- 4 p.m at the East Baton Rouge Animal Control and Rescue Center. This will be a family event which will include Pet photos, a "Best Dressed" pet contest and a "Stupid Pet Tricks" contest. These contests will be judged by some of our local celebrities. There will also be dog agility and obedience
demonstrations, face painting, humane education, a microchipping clinic, guided tours of our
facility, animal adoptions and plenty of games, food and drinks.
Join APAWS and other area rescue groups for this fun event!
For more information please visit this link.
Screening of Ghostbusters - Success!
The March 20th screening of Ghostbusters was a wonderful success. We had the pleasure of sharing the event with the Louisiana Spirits and the Louisiana Ghostbusters. They made sure everyone had a great time.  The Manship was the most incredible host and we thank them from the bottom of our hearts for all of their support in our fundraiser.  We truly hope to work with the Manship Theatre again in the near future.
We would also like to thank the following sponsors without whom we would not have been able to put on the screening.  Whole Foods was a huge help in sponsoring the screening and has continued to support APAWS.  We would like to thank the Louisiana Spirits who also helped us get the rights to do the screening. Other sponsors who contributed to the budget was the Louisiana Ghostbusters and The Bulldog.  Product sponsorship was provided by Coca-Cola, Peregrine Corporation, Best Buy, Callidora's and Dreams to Seams. Last but definitely not least we would like to thank all of our supporters who came out to see the film.  We received such incredible feedback after the screening that we are looking into having the Ghostbusters event as an annual fundraiser.
Whole Foods Pet Food Drive - Thank you
We would like to thank Whole Foods for hosting a pet food drive for us. Our volunteers had a great time and we got donations of pet food and financial support to help the fosters in our program!  Whole Foods has been such a wonderful company in not only sponsoring our screening of Ghostbusters, but also allowing us to do a food drive.  We highly recommend everyone to support this wonderful company.
PetSmart National Adoption Weekend
Please join us April 30th for PetSmart's national adoption weekend! We will be having adoptions at the PetSmart off of Siegen from 11:00 am to 4:00pm. If you are looking to adopt this is a great weekend to do so!
2011 Donors
These are our donors so far this year. We sincerely appreciate all of our donors and could not function without them. Donations can be made through Paypal.
$1.00 - $49.00 Donor aka "Maltese/American Shorthair"
Ellen Abington
Shannon Baker
Suzanne Bender
Kelley Carbo
Becky Cresap
Stephanie Guillen
Denise Kirkland
David Lagorio
Trung Luong
Teresa Prestridge
Rebecca Prince
Ashley Reid
Shane Reulet
Jeffrey Shriver
Aikawa Takeda
$100.00 - $249.00 Contributor aka "Beagle/Bengal"
Mary Lee Eggart
REfinery Children's Consignment Boutique

$250.00 - $499.00 Patron aka "Setter/Siamese"
Louisiana Ghostbusters
Ryan, LLC
Aurora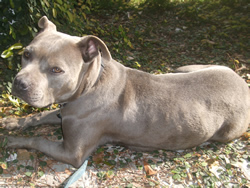 Aurora was found wandering into a busy street by one of our volunteers. She was a little timid, but very sweet. We took her in and immediately checked for tags or a microchip. She didn't have either. We then began trying to find her family, but noone responded to our ad. Because she wasn't claimed we put her into our adoption program. She had her first vet visit and we learned she is a very high heartworm positive. She's started medication to prepare for heartworm treatment. Heartworm treatment is expensive and means she will be in a foster home for several months. If you would like to help with Aurora's heartworm treatment please consider donating.
Aurora is doing very well in her foster home. She was a little thin, but is eating and isn't food aggressive. She is a little jealous of her foster mom's other dogs. We think this is because she isn't used to attention from her human and doesn't understand there's enough love for everyone.
Missy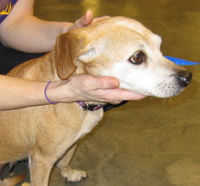 Missy was brought to APAWS by a police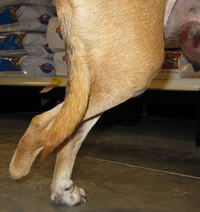 officer who found her on the Mississippi river bridge. We could immediately see something was wrong with her leg because it sticks out to the back and she doesn't seem to have any control over it. We initially thought she had a birth defect. Her first vet visit showed it wasn't a birth defect. The toes of her paw had been amputated when she was younger, the vet commented that whoever did it did a wonderful job. Her leg sticks out because her knee was previously broken and she didn't receive vet care causing it to set wrong. We will be bringing her to an orthopedic specialist to find out if the leg can be repaired or if amputation is necessary.
Missy is about two years old and we believe she's a beagle mix. She is a little timid, but very sweet. She is adjusting well to her foster home and doesn't seem to realize anything is wrong with her.