August 2011
School is back in!
Any family with children knows the summer is over. Everyone is going back to school this month. Good luck to everyone this school year! We hope you have a great time and learn lots.
Garage Sale
We will be having our garage sale on Saturday August 21st and Sunday August 22nd. It will be at 17156 Hwy 431, Prairieville, LA 70769. We have lots of great things including furniture! Come out, get some awesome stuff and help out APAWS!
Cat and Dog Full Face Shirts!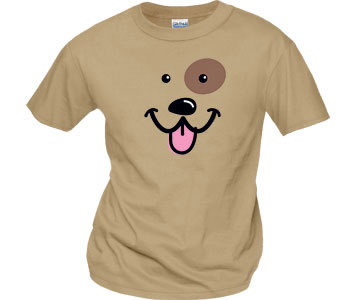 We are currently taking orders for these incredibly cute shirts! Orders are due by
August 30th. If you are out of town, but would like a shirt please let us know when you are contacted with your total and payment instructions. We are happy to ship them, we will just need you to pay the actual shipping costs. If you have any questions please email us!
The cost is $12 for sizes up to XL and $15 for sizes 2X and up. The front of each shirt has either a dog face or a cat face and the back has our information.
Petfinder Big Birthday Celebration Weekend
Although the weather wasn't perfect we were floored by the turnout for our celebration of Petfinder's birthday! We had many people stop by to say hello and our volunteers had a great time!
After expenses we cleared $102.87.
We received:
4.4 pounds puppy food
2 boxes of dog treats
117.6 pounds dog food
7 cans of dog food
27 pounds cat litter
47.5 pounds cat food
115 cans of cat food
$5 PetSmart gift card
We are so appreciative to everyone who donated and all of our volunteers who helped. The generosity of everyone who came out is both humbling and heartwarming.
Strut Your Mutt
The second annual Best Friends Animal Society Strut Your Mutt is September 18th.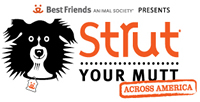 Registration is open now, so we have just one month to raise money. This event will consist of an actual walk in Lafayette and a virtual walk for those who want to participate from home. When you register, you'll be able to set up a simple fundraising website to support "No More Homeless Pets." By joining our dog pack you'll be able to raise money for APAWS. We hope everyone will have fun with this event and inspire others to donate to our cause! Please watch our website and newsletter for more details- and don't forget to join the APAWS dog pack!
Scuba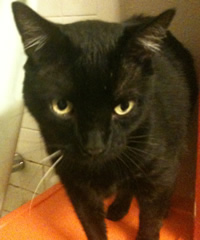 We were approached in PetSmart by a woman with a cat in a carrier. We don't usually accept animals in PetSmart because we can't accept an animal without knowing which foster home they are going to. Our volunteers tried explaining this to the woman, but she didn't care. She made comments saying she would either bring him to animal control or just dump him outside. He is approximately 6 years old and a four paw declaw. Our volunteers told her what his chances would be in our already overflowing animal control and asked for a little time to try to work him into our program. She never showed any emotion and seemed like she would just dump him in the parking lot. Fearing for his safety our cat foster chair took him from her. The plan was to get his vet records and put him into the adoption center at PetSmart within the week. As usual, the plan had to be changed after observing him.
After getting him to his foster home it was clear this poor little guy has suffered some abuse. He growled and hissed for two days straight. He showed aggression towards his foster mom's legs, it seems he had been kicked. Towards the end of the second day of fostering he jumped across the room towards his foster mom while hissing and growling. She just knew he was about to attack, instead he gave her a head bonk and rubbed against her. As soon as she petted him the hisses and growls were replaced with purrs. He really is a sweet boy, he just wasn't sure how to ask for attention. We have no way of knowing what this big boy has been through, but he has quickly won our hearts. His foster mom is currently working with him to get him ready for adoption and we hope he can go to the adoption center soon. We are giving him as much time and attention as he needs and can't wait for him to find the loving home he deserves.
Donors
These are our donors for the past month. We sincerely appreciate all of our donors and could not function without them. Donations can be made through Paypal.
$100.00 - $249.00 Contributor aka "Beagle/Bengal"
Jane Curry
$1.00 - $49.00 Donor aka "Maltese/American Shorthair"
Anna Dearmon
Christi Dellucci
Rebecca Prince
Kathy & James Rising
Mary Stagg
Kristi