December 2011

Happy Holidays!
We hope you and your family have a safe and happy holiday season!
Holiday News
We will not be having adoption day December 24th or December 31st so our volunteers can spend the time with their families.
If you have some extra time during the holiday season please consider volunteering. We will need help making stockings, taking pictures with Santa and filling in on adoption days. Even if you can only donate a couple hours of your time we are very happy to have the help. If you would like to volunteer please fill out our online form or contact us.
If you don't have time to volunteer please consider donating pet food or supplies. We are in need of cat food, dog food, cat litter, dog collars and leashes. If you prefer to donate money we would be grateful and it would be used towards our outstanding vet bills. If you are interested in donating please contact us!
Christmas Stocking Orders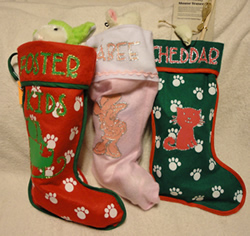 There is still time to order stockings for December 17th pick-up, shipping & business delivery!
We offer several colors and images allowing you to create your own stocking for your pet, you or your child! Our volunteers love making the stockings and can't wait to get your order.
The stockings are decorated by our volunteers with lots of love!
Stocking only - $5.00
Stocking with cat toys - $10.00
Stocking with small dog toys - $10.00
Stocking with large dog toys - $12.00
Cat toys only (no stocking) - $7.00
Small dog toys only (no stocking) - $7.00
Large dog toys only (no stocking) - $9.00
Santa Photos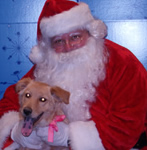 Mark your calendar! APAWS will be doing photos with Santa on December 10th and 11th at the PetSmart off of Siegen. We will also be doing photos on December 17th and 18th at the PetSmart off of Siegen. Our volunteers will be taking the photos and printing them while you shop. PetSmart provides a wonderful keepsake frame! Pictures are $9.95 with your petperks card.. APAWS does receive a considerable portion of the amount charged by PetSmart as a donation.
Santa loves pets and can't wait to visit with yours!
2012 APAWS Board Nominations
Our 2012 APAWS Board will be elected December 15th at 7:00pm in the Whole Foods community meeting room.
The nominees are:
Diane Amoroso
Jeanette Benedetto
Gay Grimes
Emily Harris
Kristin Parrish
Alisa Polk
Natalie Smith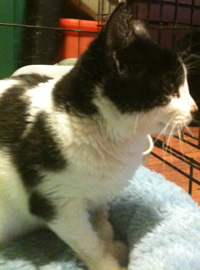 Lucy was found by one of our volunteers who works primarily with dogs. She saw this kitten laying at the edge of her driveway not moving and bleeding from her ears, eyes and nose. She could see the kitten was still breathing and responded to her touch. Lucy was immediately brought to the Baton Rouge Pet Emergency clinic. The news was grim, but not nearly as bad as we expected. She had severe swelling of her brain, but the vet thought she could pull through. Treatment began immediately to reduce the swelling of her brain.
The next morning Lucy was transferred to Sherwood South Animal Hospital to continue her care. She appeared to be mostly blind, deaf and had limited movement on one side of her body. We weren't sure how much damage would be permanent.
We were shocked when just three days after her injury she was released to go to her foster home. Lucy had made an almost full recovery! She regained all of her vision, hearing, mobility and most of her balance.
A week after she went home she went in for a check-up. The vet was thrilled! She is fully recovered. We have started her vaccinations and other routine vet care. Once her routine vet care is completed she will be available for adoption.
Lucy is a spunky little girl who never gave up! We are sure her attitude is what saved her.
Click here to donate to Lucy's vet bills!
Donors
These are our donors for the past month. We sincerely appreciate all of our donors and could not function without them. All donations are tax-deductible. There is still time to make a donation this year!
Donations can be made through Paypal.
$100.00 - $249.00 Contributor aka "Beagle/Bengal"
Accel Cooling & Heating LLC
Mrs. Don Hemphill
Anna Lee Himel

$50.00 - $99.00 Supporter aka "Spaniel /Russian Blue"
Hannah Reisman
Jacqueline Trautwein

$1.00 - $49.00 Donor aka "Maltese/American Shorthair"
Jaclyn Bolda
Barry Bradford
Erin Brush
Sandra Deufel
Debra Genusa
Deborah Guidry
Debra Hayman
Elise Loden
Jennifer Newland
Holly Pham
Ashley Reid
Chance Womack