June 2011
Summer is Here!
Summer is finally here! School is out, family vacations are planned and we're looking forward to lots of BBQs. Summer brings fun but it also brings very hot weather that can be dangerous for your pets. Please take a few minutes to review these hot weather tips for pets.
Summer Volunteers
If you have some free time this summer and would like to help a great cause, please consider volunteering with APAWS! We are always looking for volunteers for adoption days, fundraisers, and more! Fill out the volunteer application on our website if you're interested in spending a little time helping furry friends in need
Hurricane Season
Hurricane season begins on June 1st. NOAA's National Hurricane Center predicts an above normal Atlantic season this year with many of the Atlantic storms coming into the Gulf of Mexico. Please make sure you are prepared for this active hurricane season. Please view the article disaster preparedness and pets for information on how to prepare for this hurricane season.
Strut Your Mutt
The second annual Best Friends Animal Society Strut Your Mutt is September 18th. Registration opens on June 1st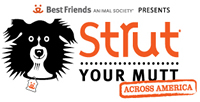 giving us a few months to raise money. This event will consist of an actual walk in Lafayette and a virtual walk for those who want to participate from home. We hope everyone will participate in this fun event and raise money for APAWS! Please watch our website and newsletter for more details!
Please join our dog pack and raise money for APAWS!
Petfinder Big Birthday Celebration Weekend
July 15th - 17th is the Petfinder Big Birthday Celebration Weekend. Petfinder is already 15 years old and has helped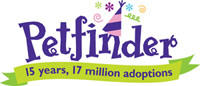 place 17 million animals. Petfinder is a wonderful tool and we are thrilled to participate in this celebration. Please watch our website and newsletter for details!
Kyra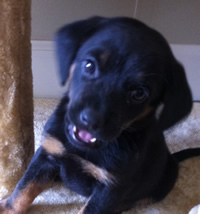 Kyra was rescued by one of our previous adopters. The adopter couldn't keep her, but got her to the vet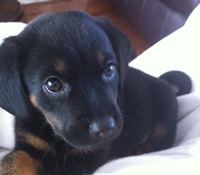 immediately and then called us. We took Kyra in on May 21st.
Kyra was found in the middle of the road and looked like she had been hit by a car; luckily, this was not the case. Unfortunately, she wasn't in the greatest shape. She was dehydrated, alnourished, and had an infection in her mouth. She is only four weeks old and very fragile. Her new foster parent brought her home and has been nursing her back to health. Kyra is now doing better and should be available for adoption in a few weeks!
Donors
We filed our taxes in May. We are happy to report that 97.6% of every dollar we get goes directly to animal care. The other 2.4% pays for our PO Box, phone line and any other expenses that are necessary to run the organization. We would like to remind everyone that we have no paid staff, only volunteers.
These are our donors for the past month. We sincerely appreciate all of our donors and could not function without them. Donations can be made through Paypal.
$100.00 - $249.00 Contributor aka "Beagle/Bengal"
Susan Marvin
Lindsey McFarren

$50.00 - $99.00 Supporter aka "Spaniel /Russian Blue"
Marie Kelley

$1.00 - $49.00 Donor aka "Maltese/American Shorthair"
Fran Guerin
Lucina Lampila
Troy Mason
Teresa Normand