November 2011

Happy Thanksgiving!
The holidays are here! Thanksgiving is an excellent time to thank everyone in your life who you appreciate. Don't forget your veterinarian and vet techs! Thanksgiving dinner is filled with lots of goodies that are good (or not so good) for people, but they aren't good for our pets. Our pets have very different calorie and nutrition requirements than our human family members. Just a bite may not mean much for your human family, but for your furry family it can be very harmful. Please check with your vet before giving your pet any 'human' food. If you would like for your pet to still feel part of the festivities then remember there are plenty of pet-safe treat foods that are flavored for the holiday season and can be found at any local pet food store.
Holiday News
Everyone loves the holidays. Don't forget APAWS does not do adoptions during holiday weekends. We will not be having adoptions the weekend after Thanksgiving, November 26th, so our volunteers can spend the time with their family.
If you have some extra time during the holiday season please consider volunteering. We will need help making stockings, taking pictures with Santa and filling in on adoption days. Even if you can only donate a couple hours of your time we are very happy to have the help. If you would like to volunteer please fill out our online form or contact us.
If you don't have time to volunteer please consider donating pet food or supplies. We are in need of cat food, dog food, cat litter, dog collars and leashes. If you prefer to donate money we would be grateful and it would be used towards our outstanding vet bills. If you are interested in donating please contact us!
Laser Tag of BR Fundraiser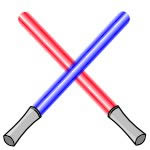 Laser Tag - the Next Best Thing to Lightsabers!
Join us at Laser Tag of Baton Rouge on November 3rd!  For only $20 you get unlimited games from 4pm to 9pm.  Laser Tag of Baton Rouge is donating $10 of every entry fee to APAWS!
This is a promotion of our Star Wars event on November 12th as part of the PetSmart National Adoption Weekend. 

Facebook Event
PetSmart National Adoption Weekend and Star Wars Celebration!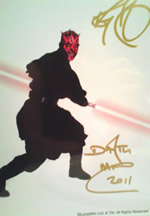 On November 12th APAWS will be participating in the Petsmart National Adoption Weekend.  Special friends of APAWS will be out to welcome our supporters. Come out and meet some of the members of the 501st Legion. Star Wars fans will recognize these bad guys, but these are bad guys who do good.  In honor of our special guests our event will be Star Wars themed.  We will be selling jambalaya and Star Wars treats as a fundraiser and we will also be having a food drive for the cats and dogs in the group.
The more ingredients we can have donated the more money we will make. You can either donate via paypal or contact us for a list of what we need.
We are also doing preorders of the jambalaya - order yours today! Each dinner is only $5!
Another special treat will be a silent auction of an autographed Darth Maul picture signed by Ray Park. This is an authentic autograph as our Cat Foster chair met Ray Park in person at the New Orleans Comic Convention. Ray Park loves animals very much and graciously asked if he could give us a photograph to use to help the animals.

Facebook Event
Christmas Stocking Orders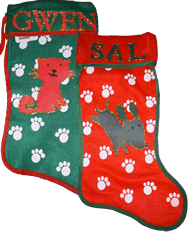 Our APAWS elves have already started on the stockings for this year! These stockings are personalized with the name and image you select. We have limited availability of some colors, so order early to make sure you get the stocking you want.
We've added more images this year. Even if you don't have pets you can order a stocking for your kids or even yourself! Stockings will be available for pick up beginning December 3rd. We are happy to deliver to Baton Rouge area businesses. We require a minimum of five stockings to deliver to a business. All deliveries will be made in the month of December.
The stockings are decorated by our volunteers with lots of love!
Stocking only - $5.00
Stocking with cat toys - $10.00
Stocking with small dog toys - $10.00
Stocking with large dog toys - $12.00
Cat toys only (no stocking) - $7.00
Small dog toys only (no stocking) - $7.00
Large dog toys only (no stocking) - $9.00
Santa Photos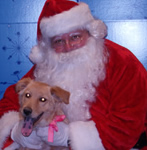 Mark your calendar! APAWS will be doing photos with Santa on December 17th and 18th at the PetSmart off of Siegen. Our volunteers will be taking the photos and printing them while you shop. PetSmart provides a wonderful keepsake frame! We aren't sure of the price yet, that is set by PetSmart. APAWS does receive a considerable portion of the amount charged by PetSmart as a donation.
Santa loves pets and can't wait to visit with yours!
Fetchpuppy.com
APAWS is now listed as a participating charity on FetchPuppy.com! FetchPuppy.com is an online deal site offering a new deal each day. The best part is 10% of each sale goes to that week's charity.
Please vote for APAWS on FetchPuppy.com. To vote:
1. Register on FetchPuppy.com
2. Click the Vote on Charities button in the lower right hand corner of the home page.
3. Click Show All on the bottom of the page
4. Click the I like this button under Animal Protection and Welfare Society
The whole process takes just a couple minutes. Thank you for your time!
A Note from Lennie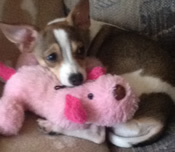 Lennie and his siblings were left in a box at a high kill animal shelter. His brother and sister were adopted quickly because they were outgoing and caught everyone's attention. We found a foster for Lennie to give him extra attention since his siblings were gone. Lennie's foster family adopted him!
We love getting updates and pictures of the animals we've adopted out. It suprises many people that our foster parents remember each and every one of their fosters. Getting a little note that everything is going well makes the hard task of rehabilitating them to give them up much easier. If you would like to send us an update (and maybe be in our next newsletter) please send an email to info@apawspets.org.
Lennie sent us this note:
Hi this is Lennie with a up date of how I am doing since APAWS put me with the nice foster family till I could be adopted.
They were nice humans and it didn't take me long to work my way into there hearts.  Well, they refused to bring me back.  I now have new human family that have adopted me.  These humans seem to love adopting all kinds of babies both human and us animals.  I went from being alone to having 4 humans, an old dog named Sweet Pea, and a cat named Katrina which I don't see very much.  They all love me very much and I love them.

I want to thank APAWS for taking me in and asking Randy and Linda Polk to foster me but more so to allow me into their hearts.  I know I will be loved and cared for furever!

I will see y'all soon
Lennie

Sassy and Toby - Update
Toby and Sassy are doing great in their new home! They get along with both the other cat and the dog. We are so happy we were able to place these two and so thankful to everyone who donated! The donations were able to more than cover the travel expenses to get them to Alabama. The excess went towards their last vet bill.
Donors
These are our donors for the past month. We sincerely appreciate all of our donors and could not function without them. Donations can be made through Paypal.
$50.00 - $99.00 Supporter aka "Spaniel /Russian Blue"
Josh and Jeanette Benedetto
Claire Gremillion

$1.00 - $49.00 Donor aka "Maltese/American Shorthair"
Kristen Delaune
Kevin Tate