October 2011

Happy Halloween!
Halloween is certainly a fun time for children and adults alike! Please remember to keep Halloween candy and goodies out of reach of your pets. If your pet does eat any candy or goodies call your vet immediately to find out if medical intervention is necessary. Also, many animals become stressed during trick or treating. Don't forget to keep them secure so they do not dart out the door while you give candy to the trick or treaters!
Christmas Shirt Orders
We are taking orders for two Christmas shirt designs! Orders are due on October 25th. Short sleeve, long sleeve and sweatshirts are available! This is a great chance to show your Christmas spirit, get a cute shirt and support APAWS.
Laser Tag of BR Fundraiser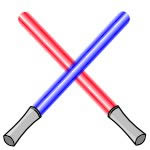 Laser Tag - the Next Best Thing to Lightsabers!
Join us at Laser Tag of Baton Rouge on November 3rd!  For only $20 you get unlimited games from 4pm to 9pm.  Laser Tag of Baton Rouge is donating $10 of every entry fee to APAWS!
This is a promotion of our Star Wars event on November 12th as part of the PetSmart National Adoption Weekend. 

Facebook Event
PetSmart National Adoption Weekend and Star Wars Celebration!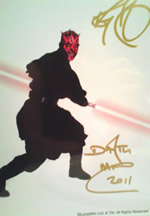 On November 12th APAWS will be participating in the Petsmart National Adoption Weekend.  Special friends of APAWS will be out to welcome our supporters. Come out and meet some of the members of the 501st Legion. Star Wars fans will recognize these bad guys, but these are bad guys who do good.  In honor of our special guests our event will be Star Wars themed.  We will be selling food and Star Wars treats as a fundraiser and we will also be having a food drive for the cats and dogs in the group.
Another special treat will be a silent auction of an autographed Darth Maul picture signed by Ray Park. This is an authentic autograph as our Cat Foster chair met Ray Park in person at the New Orleans Comic Con Convention. Ray Park loves animals very much and graciously asked if he could give us a photograph to use to help the animals.

Facebook Event
Christmas Stocking Orders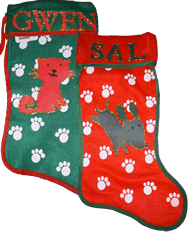 We are making personalized stockings again this year! We are changing things up a bit and hope everyone likes the changes. We are no longer offering treats in the stockings to allow pick-up as soon as they are made instead of waiting to right before Christmas. We are also offering the purchase of just the stocking as well as the stocking filled with cat or dog toys. We have more designs this year for you to choose from allowing you to personalize a stocking for every member of the family!
The stockings are decorated by our volunteers with lots of love!
Stocking only - $5.00
Stocking with cat toys - $10.00
Stocking with small dog toys - $10.00
Stocking with large dog toys - $12.00
Cat toys only - $7.00
Small dog toys only - $7.00
Large dog toys only - $9.00
Doogie Howser, M.P.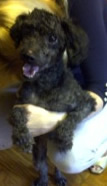 Doogie was living happily with his family when he wandered out of his yard into a neighbor's yard. The large dog living in that yard acted defensively and attacked Doogie. We want everyone to understand the dog wasn't being aggressive, he was protecting his family from the strange dog. The attack ripped out part of Doogie's neck and part of his ear. His owners thought he was going to die from his injuires so they chose to not take him to the vet.
Doogie is a fighter and his wounds began to heal on their own. Due to the size and severity of the wound it became very infected and developed a large abcess. At this point the owners realized Doogie wasn't going to just die and brought him to animal control to be euthanized. The intake coordinator felt terrible for all this little boy had been through and saw something special in him, he was brought to the vet to see if he could possibly be saved. It isn't enough to say he was in bad shape, the abcess on his neck was larger than his head and his ear was hanging off. Doogie had surgery to repair the damage and the vet wasn't sure he would pull through. He pulled through the surgery and spent a month with the vet staff recovering. When our volunteer met him he still had a large scar on his neck from surgery and his ear was sensitive where it was stitched back on. He had also developed a bed sore from laying in a crate all day. He stole the volunteer's heart and she brought him home for the rest of his rehabilitation.

Continue reading Doogie's story
Sassy and Toby - Update
Thank you to everyone who donated towards Sassy and Toby's travel! They are going to their new home October 8th. Their foster mom and another volunteer will be bringing them. We did have a full check-up and blood panel done on both cats, they are both in excellent health and ready to go.
Donors
These are our donors for the past month. We sincerely appreciate all of our donors and could not function without them. Donations can be made through Paypal.
$100.00 - $249.00 Contributor aka "Beagle/Bengal"
Kerri Bancke
Claire Gremillion
Shelley Janashek
$50.00 - $99.00 Supporter aka "Spaniel /Russian Blue"
Gina & Brannon Costello
Carolyn Cummins
Anthony Lindsey
Randy & Linda Polk
$1.00 - $49.00 Donor aka "Maltese/American Shorthair"
Sandra Deufel
Stephanie Grayson
Rebecca Prince
Deborah Guidry
Erica Kennedy
Karen Smith
Kevin Tate
Alice Harrison
Andrea Martinez
Kimen Kegans
Megan McLellan
Kristina Shapiro
Debra Smith