September 2011

Happy Labor Day!
The weather is getting cooler, at least cooler for south Louisiana. We will not be having adoptions September 3rd to allow our volunteers to celebrate the Labor Day weekend. We hope you and your family have a wonderful holiday!
Pet Food Drive, Food Sale & PetSmart Charities Adoption Weekend
On September 10th, we will be having a pet food drive and food sale to celebrate PetSmart Charities National Adoption Weekend! It will be held on the sidewalk outside of the PetSmart off of Siegen. Adoptions will be done inside the PetSmart off of Siegen. We look forward to seeing everyone there!
We are in need of cat food, dog food and cat litter. Our animals aren't very picky, but we prefer Purina products. We will be selling hot dogs and nachos - come see us for lunch! We will also be selling APAWS T-shirts. If you've been wanting one, this is the perfect time to get one.
Adopt-A-Less Adoptable Pet Week
During September 17-25, petfinder.com is celebrating "Adopt-A-Less Adoptable Pet Week." APAWS has many animals that are considered less adoptable. Some of these are FIV+ cats, heartworm+ dogs, seniors and black dogs and cats. We don't think they're less adoptable, but it seems everyone else does! Please join us in spreading the word that all animals need a loving home, not just the young cute ones!
Strut Your Mutt
The second annual Best Friends Animal Society Strut Your Mutt is September 18th.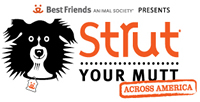 This event will consist of an actual walk in Lafayette and a virtual walk for those who want to participate from home. When you register, you'll be able to set up a simple fundraising website to support "No More Homeless Pets." By joining our dog pack you'll be able to raise money for APAWS. We hope everyone will have fun with this event and inspire others to donate to our cause! Please watch our website and newsletter for more details - and don't forget to join the APAWS dog pack!
Crates for Adoption Day
We are in desperate need of cat-sized collapsible crates for adoption day. Our cat-sized crates aren't in good condition and many have had to be retired. We want to bring as many cats up as possible for adoption day, but we need more crates! If you have a gently-used cat-sized crate you aren't using, please consider donating it to APAWS. All donations are tax-deductible.
Sassy and Toby - Travel Expenses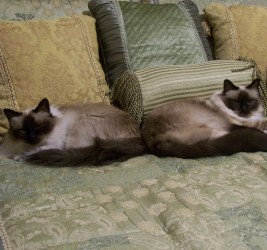 Sassy and Toby are a mother and son pair of senior Birman cats - 15 and 13 years old. Their former owner passed away and a family friend took them in, but could not keep them. We recently received the perfect application for these wonderful cats. The lady is retiring this coming month, and already has a 13 year old Birman. She knows the breed and she wants to help these two babies stay together. 

The only problem is that this wonderful new forever home is in Decatur, Alabama. APAWS usually does not do adoptions that are farther away than we would normally be willing to drive ourselves, but how often do you get a great applicant for 13 and 15 year old cats to stay together?  We will not put cats on a transport - they will travel in our cars sitting right beside us so we can ensure that they arrive safely and that their new homes are good homes.

Sassy and Toby's foster mom needs help with the travel costs for this trip (gas and an overnight stay). She will drive straight there, meet the lady at her home and then return.  Any money raised beyond the cost of the travel and lodging will go directly toward Sassy and Toby's veterinary bills. They recently had a checkup and blood work done to make sure they are healthy before taking such a long trip.
Please consider donating to Sassy and Toby's travel fund!

As a reminder all donations are tax-deductible! Donors will be listed on our Supporters page and in our newsletter. Thank you so much for helping these two senior cats get to their forever home! If you have any questions, please contact us at info@apawspets.org.

Goal - $500
Donors
These are our donors for the past month. We sincerely appreciate all of our donors and could not function without them. Donations can be made through Paypal.
$1.00 - $49.00 Donor aka "Maltese/American Shorthair"
Lauren Boring
Angelle Cooper
Lindsay Fruge
Deborah Guidry