April 2012

Happy Easter!
We would like to wish a Happy Easter to everyone who celebrates Easter. If you do not celebrate Easter we hope you take the opportunity to spend time with your friends and family and celebrate this beautiful time of year!
A special warning for those families with Easter baskets and pets. Please make sure your Easter basket is out of your pet's reach. Both the plastic grass and candy can make your pet very sick. If you have small children make sure they know the Easter basket isn't for their furry best friend.
In celebration of Easter we will not be having adoptions Saturday, April 7th.
Science Fiction Characters and Books!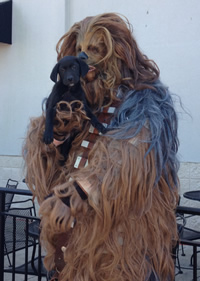 We would like to thank everyone who came out on March 24th! We not only had pet loving people, but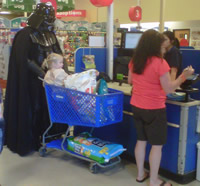 characters from Star Wars (both good and bad), Star Trek, Pirates and Ghostbusters. Everyone seemed to have a great time and we received quite a few donations!
Food sales and donations: $696.00
Estimated value of food/litter donations: $855.68
Books A Million donation: $168.30
We are sincerely thankful to the five groups who came out to support APAWS. They took time out of their busy lives and many wore uncomfortable costumes all for the animals in our group! We are also very thankful to Books A Million for donating part of their sales!
APAWS Garage Sale
We will be having our garage sale Easter weekend. We have lots of furniture and household goods. Please come out and support APAWS!
When: Friday, April 6th 11:00 AM - 3:00 PM
Saturday, April 7th 11:00 AM - 3:00 PM
Where: 9436 Goodwood Blvd, Baton Rouge, LA
Happy Tails
We love hearing how the animals we adopt out are doing! Here are just a couple of our most recent stories. Visit our APAWS: The Journey from Rescue to Forever Home blog for more stories!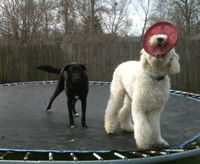 Beaux Adopted September 2011
We wanted to send you a funny picture of Beaux and his best friend Bentley. Beaux loves to steal Bentley's frisbee and play keep away. The other day I found them playing on the trampoline. We love both our boys so much! Beaux is 61 lbs. and has the funniest personality. Thank you for giving us the opportunity to love and care for Beaux and make him part of our family.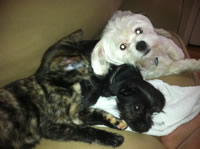 Zeus Adopted September 2011
Zeus is doing great and fits right in with our family! He's best friends with our cat 'Kitty' and our dog 'Mugsey'. 
Louisiana Science Fiction Film and Costuming Festival
When: April 20 - 22
Where: Hampton Inn, 27755 Commercial Drive, Port Allen
APAWS has been named the official charity organization for the Louisiana Science Fiction Film and Costuming Festival. From March 1st through the date of the convention three costuming groups will compete to see whose fans are the most charitable and dedicated to their film.  The group that raises the most money for APAWS will be declared the winner on April 21st. 
The groups have already raised $444!
The Bast Alpha Garrison is in the lead with $189
The Rebel Legion is in second place with $130
USS CORSAIR is in third place with $110
The LA Ghostbusters are in fourth place with $15
If you would like to donate to support APAWS and show everyone which group is the best please go to http://www.apawspets.org/scifi_fest.html to make a donation.  
APAWS and The Manship Theatre Presents Star Trek II: The Wrath of Khan!
Put this on your calendar now! Online ticketing is now available - http://www.manshiptheatre.org/index.cfm?md=calendar&tmp=detail&eid=256&eiid=363 .
Manship Theatre at the Shaw Center for the Arts
100 Lafayette Street, Baton Rouge, LA
June 2, 2012
6:00 p.m. pre-show event with a 7:00 pm movie screening
Come join us on June 2, 2012 to celebrate the wonderful world of science fiction. We will be having a pre-show event starting at 6:00 pm and everyone is welcome to come out in their best science fiction costume. Just remember you still need to be able to see the movie, so don't wear anything that will prevent you or others from viewing the movie. During the pre-show we will have a Khan showdown. We will have judges to determine who can do their best rendition of Kirk's famous Khan scream. We are celebrating science fiction in general but this screening is special as two days later, on June 4th, Star Trek II will be having its 30th anniversary. So, come out to support animals and celebrate the anniversary of one of science fiction's most beloved films.
Donors
These are our donors for the past month. We sincerely appreciate all of our donors and could not function without them.
Donations can be made through Paypal.
$500.00 - $999.00 Sustainer aka "Retriever/Ragdoll"

$100.00 - $249.00 Contributor aka "Beagle/Bengal"
Sarah Albares
Gretchen Alexander
Staci Authement
Equal Family Trust
Jamie Fontenot
Sandra Lynch
Julian Siano

$50.00 - $99.00 Supporter aka "Spaniel /Russian Blue"
Ginger Alumbaugh
Reed Bates
Anastasia Bozeman
Gary Breaux
Natalie Smith

$1.00 - $49.00 Donor aka "Maltese/American Shorthair"
Breaynn Ammann
Sandy Bergeron
Adam Brown
Erin Brush
Patricia Butler
Joshua Cook
Anna Goodson
Russel Herzog
Karen Mitchell
Marilyn Perrin
Ashley Reid
Laurie Rozas
Debra Smith
Kevin Tate
Karen Thomason
Jason Vecoli
Chance Womack