January 2012

Happy New Year!
We hope you and your family have a wonderful 2012!
2011 Adoptions
We are happy to report we helped 32 cats and 151 dogs find their forever homes!
2012 Mystic Krewe of Mutts Parade
APAWS will be participating in this year's Mystic Krewe of Mutts Parade sponsored by CAAWS. The theme this year is "The Good, The Bad & The Furry." Please visit CAAWS for more information.
The day full of fun events is Sunday, January 29, 2012 from 10:00 AM to 4:00 PM. We hope to see you there!
APAWS Hoodies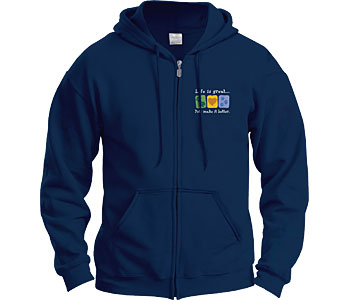 Order your APAWS hoodie today! Only $19.95 for sizes S-XL and $22.95 for 2X.
The front right side will say:
APAWS
www.apawspets.org
Adopt Your Best Friend!
Orders are due February 7th!
Submit your order online or email info@apawspets.org.
2012 APAWS Board Announced
Diane Amoroso
Jeanette Benedetto
Gay Grimes
Emily Harris
Kristin Parrish
Alisa Polk
Natalie Smith
Star Trek II: The Wrath of Khan Screening
We are currently looking for businesses to sponsor the Star Trek II: The Wrath of Khan fundraiser screening.
For more information please visit our screening page or send an email to info@apawspets.org.
Donors
These are our donors for the past month. We sincerely appreciate all of our donors and could not function without them.
Donations can be made through Paypal.
$500.00 - $999.00 Sustainer aka "Retriever/Ragdoll"
Cheryl Kennedy
$100.00 - $249.00 Contributor aka "Beagle/Bengal"
Shannon Brasseaux
Gina Costello
Amy Curry
Anna Lee Himel
Jeremy Phillips
$50.00 - $99.00 Supporter aka "Spaniel /Russian Blue"
Anthony Lindsey
Jennifer Pearson
Angela Smith
Cari Wormsley

$1.00 - $49.00 Donor aka "Maltese/American Shorthair"
Erin Brush
David Campbell
Jamie Deno
Jeanne Earnest
Happy Tails Books
Julie Harris
Billy LaTouor
Bettina Schupp
Elaine Smith
Kevin Tate