July 2012

Summer is Here!
There is no doubt, summer is here! Make sure your pets have everything they need to survive the heat.
Here are a few tips:
Do not leave any animals in your car! Even just a few minutes can cause the animal to become overheated. Leaving the windows cracked isn't enough!
Make sure your indoor and outdoor pets have fresh, clean water available at all times.
Make sure your outdoor pets have the ability to get out of the sun.
Pay special attention to flea control. Fleas love warm weather. Make sure you are taking all precautions to prevent your pets from getting fleas.
Order Your A Pet's Love is Forever Shirt Today!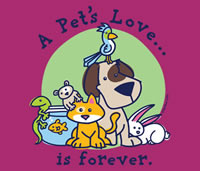 We are currently taking orders for these cute shirts! Magenta and a grayish blue are available. Sizes through XL are $13. Sizes 2X and 3X are $16. One side will have time A Pet's Love is Forever logo and the other side will be personalized for APAWS.
Smooch My Pooch
APAWS would like to thank Smooch My Pooch for helping us! They have done an excellent job grooming some of our guys to make them adoption ready! Please support this great, rescue friendly business! http://www.smoochmypooch.com/
Happy Tails
We love hearing how the animals we adopt out are doing! Here are just a couple of our most recent stories. Visit our APAWS: The Journey from Rescue to Forever Home blog for more stories!
Bruiser - Adopted April 2012
He is doing great. Our lab is now his best friend and they play all the time. It is cute seeing those two together. We just love Bruiser and so glad we adopted him.

Bruiser and his best friend Max taking a nap on Max's bed.
Maggie - Adopted August 2011
This is Meg (Maggie) that we adopted from you approx. a year ago after we lost our 
other cat.  Our friend says she doesn't know it but "she has won the lottery and didn't know it".  We love her so much and thank you so very much for letting us adopt her.  She is very smart and has an abundance of personality. 
Donors
These are our donors for the past month. We sincerely appreciate all of our donors and could not function without them.
Donations can be made through Paypal.
$250.00 - $499.00 Patron aka "Setter/Siamese"
Gregory Szyndrowski

$100.00 - $249.00 Contributor aka "Beagle/Bengal"
Books A Million
Hound Dogs Bar (Downtown Baton Rouge)
Caye McGee
Michael Miller
Elizabeth Rogillio
Ricardo Romero

$50.00 - $99.00 Supporter aka "Spaniel /Russian Blue"
Jeanette Benedetto
Erin Brush
Marlene Mullenix
In Memory of Marti Richardson
In Memory of Rudy
In Memory of Don Sloan

$1.00 - $49.00 Donor aka "Maltese/American Shorthair"
Kristin Braun
In Memory of Madeline Brouillette
Laurie Cloessner
Andrea Deshotels
Christine Dornier
Katherine Gill
Sibohan Leger
Kim Pylant
Debra Smith
Kevin Tate
Susan Thomas
Jodi Willis