March 2012

It is already March!
Spring is almost here! Be sure to check your fence for any holes before giving your dog playtime outside.
Emergency Vet Care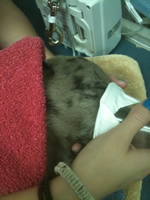 We decided to do this section in memory of Peanut. Help came too late for Peanut, but we hope through education we can prevent other animals from the same fate. For more information on Peanut please visit our Memorials page.
Routine veterinary care is imperative for all animals. As their caregiver, you must make sure they are seen regularly to prevent illnesses from getting out of hand. Even with excellent routine care, emergency vet care is sometimes needed when your pet is experiencing a medical crisis and your regular vet is closed. If you are unsure if your pet is having a crisis or if the condition can wait, call the emergency vet clinic. They will be able to tell you over the phone if you should come in.
There are three emergency vet clinics in the Baton Rouge area. If you are not in the Baton Rouge area or you are travelling you can search online or call a vet local to your area to find an emergency vet clinic.
The three in Baton Rouge are:
Baton Rouge Pet Emergency Hospital
(225) 925-5566
1514 Cottondale Dr
Baton Rouge, LA 70815
LSU Small Animal Clinic
LSU also provides emergency care to exotics and wildlife, call for information on your situation
(225) 578-9600
at the corner of River Road and Skip Bertman Drive
Sherwood South Animal Emergency and Critical Care Center
(225) 293-7747
3803 South Sherwood Forest Blvd
Baton Rouge, LA 70816
http://sherwoodsouth.com/emergencies.html
It is better to be prepared before an emergency occurs, this is especially true when the emergency is with the pet you love. You will most likely not be thinking clearly.
Know where the most convenient emergency clinic is. Discuss what to do about emergency care with your vet so you know their preference and if a certain clinic is better for your pet. Keep the contact information for the emergency clinic easily accessible.
Is your pet on any medications? Keep a current list of all your pet's medications either with you or easily accessible. Be sure to list the dose for each medication and update it when new medications are added or removed.
Know your pet's basic medical history. When did they last have vaccinations? If you are overdue for your pet's vaccinations be honest with the emergency vet, they are not going to judge you they just need accurate information. Know if your pet is spayed or neutered and any other surgeries they have had. If your pet has a chronic condition be sure to tell the emergency clinic.
Find out how much the basic visit costs at the clinic you plan to use. Most emergency clinics require payment at the time of services.
When you have an emergency:
Call the emergency clinic to let them know you are on your way. Tell them why you need emergency care- the more information you give them the more prepared they will be for you.
Get your list of medication and any medical records you feel are necessary.
If possible, get a friend or family member to meet you at the emergency clinic. Going to the emergency clinic is stressful for anyone, it helps to have someone with you to keep you calm.
Be patient at the emergency clinic. They try to treat animals in the order they come in, but if an animal is in critical condition they will receive first priority.
Be prepared to pay for the services up front.
If you have to leave your pet overnight be prepared to pick them up early. Most emergency clinics require patients to be picked up before the regular clinic opens. Depending on how your pet is doing, you may need to transfer them to your regular vet for hospitilazation.
We hope you never need emergency clinic services, but it is much easier if you are prepared just in case!
Happy Tails
We love hearing how the animals we adopt out are doing! Here are just a couple of our most recent stories. Visit our APAWS: The Journey from Rescue to Forever Home blog for more stories!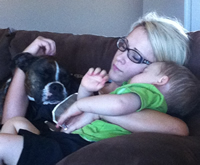 Roxy Adopted December 2011
Roxy is doing great! She has brought so much joy to our family. She's done great with her potty training and has had no accidents since we got her! She is still a little nervous/hesitnat when any new men come around, besides her "daddy" (my husband) of course; but she always warms up. Her and my 2 year old son have became best friends and Roxy has became his "protector". She even sleeps in her bed at the foot of my son's bed! We are so blessed to have found your organization and Roxy.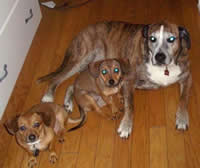 Jasmine, formerly Coco, Adopted December 2011
We thought you would like to see some pictures of Jasmine (Coco).  She is such a happy dog full of love and energy, she loves her brothers George (the big kahuna, he is 15, mastiff, shepard mix) and Angelo (Chiwiennie) .Her and Angelo play together all day till evening when they fall asleep cuddling together. She loves everyone that walks through are door and is not shy to be the fist to get attention. At first Jasmine (Coco) had trouble with using the bathroom either on a pee pee pad or outside, but after a few months and watching her brothers, she is accident free. Jasmine (Coco) is so smart and needs only to be told once, she is a very good listener. She loves to run in the yard and on the beach and visit with other dogs and people. We want to thank you again for bringing her into our lives and making our family whole. Jasmine (Coco) is the joy of our life and we are one greatful family. Keep up the excellent work that you do, everyday a dog is saved like Jasmine, and put into a good home makes a much better world and give our furry kids another chance in life that they very much deserve!!!
Costumes & Books - Books-a-Million Fundraiser
When: March 24 11am - 4pm
Where: Books-a-Million and PetSmart off of Siegen Lane
APAWS will be joining forces with the Crew of the Ragtag Misfits (a pirate group), the Rebel Legion (the good guys in Star Wars), 501st Legion (the bad guys in Star Wars) and the Louisiana Ghostbusters to raise money and have a food drive for the animals. We will have our adoption day inside PetSmart, a tent outside accepting donations and selling human food and costumed characters at Books-a-Million. For every purchase made at Books-a-Million with one of the vouchers available onsite a donation will be made to APAWS. This is the perfect opportunity to grab a book, get lunch and see our pets for adoption accompanied by pirates and characters from Star Wars!  
Louisiana Science Fiction Film and Costuming Festival
When: April 20 - 22
Where: Hampton Inn, 27755 Commercial Drive, Port Allen
APAWS has been named the official charity organization for the Louisiana Science Fiction Film and Costuming Festival. From March 1st through the date of the convention three costuming groups will compete to see whose fans are the most charitable and dedicated to their film.  The group that raises the most money for APAWS will be declared the winner on April 21st.  If you would like to donate to support APAWS and show everyone which film is the best please go to http://www.apawspets.org/scifi_fest.html to make a donation.  
Oliver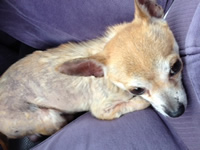 Oliver was found abandoned in a backyard after 5 days of no food or water. It was cold and rainy that day and one of our volunteers heard him crying.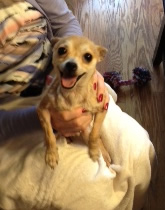 She scooped him up and immediately took him to the vet. He was missing all of his hair except the hair on his head and he was covered in scabs and fleas. The vet initially thought he had scabies, but it was later determined to be bacterial folliculitus. It's obvious that he's been neglected and mistreated by the way he cowers as soon as a hand is raised to pet him. He was on antibiotics for 2 weeks and now his hair is starting to grow back along with his trust for humans. It's going to take sine time for him to heal physically and mentally but he will. He's already letting his personality come out and has become best friends with Chipper (another foster dog that was starved for affection). He's learning what it's like to be loved and all he wants is a warm lap to sit in.
Donors
These are our donors for the past month. We sincerely appreciate all of our donors and could not function without them.
Donations can be made through Paypal.
$500.00 - $999.00 Sustainer aka "Retriever/Ragdoll"
Whole Foods
$100.00 - $249.00 Contributor aka "Beagle/Bengal"
Mary Lee Eggart
Kathleen O'Leary
Ryan Foundation
Valerie Sutton
$50.00 - $99.00 Supporter aka "Spaniel /Russian Blue"
Peggy Denham

$1.00 - $49.00 Donor aka "Maltese/American Shorthair"
Sandra Augustus
Sandy Bergeron
Erin Brush
Kelli Hunt
Fay Nichols
Emily Percle
Rebecca Prince