May 2012

Happy Mother's Day!
We would like to wish Happy Mother's Day to all the mothers out there (to both human and pet children)!
Warm Weather is Here, So are the Fleas!
Warm weather in southern Louisiana means fleas! This flea season is expected to be pretty bad because of our mild winter. If your pet seems to be scratching a lot, or if you see fleas please contact your vet! Although there are many inexpensive treatments out there, they are not always as effective as the treatments you can get from your vet. Your vet knows about your pet, their health and the best options to prevent and treat flea outbreaks.
Our recent special needs pup Chloe is an excellent lesson in what not to do!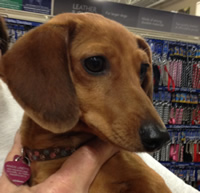 APAWS was contacted by a volunteer with Houma animal control about a very cute miniature dachshund who was to be turned into animal control. They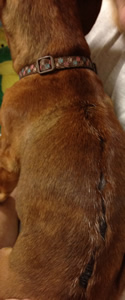 asked that APAWS take her so she did not have to go to animal control and most likely be euthanized. Initially we were told the family purchased the dog for their children and the children were no longer taking care of her. We were trying to arrange a foster home and vet visit when we found out the story was much worse than previously thought.
Chloe had fleas and her family decided the best way to get rid of them was to put her outside for the sun to bake them off. When that didn't work they decided to pour insecticide down her back. She is currently suffering from a severe sun burn and a very severe chemical burn where the insecticide came in contact with her skin.
Chloe is safe now in a foster home. She is very shy, but seems to be warming up quickly.
Yappy Hour at The Bulldog
The Bulldog is not only a fun place to hang out on Perkins, it is a major supporter of local animal welfare charities. Beginning this month they are organizing Yappy Hour every first Thursday of the month. Each month a different charity will be chosen and The Bulldog will donate 15% of all sales from 5-7 to the charity of the month. May's charity is APAWS! Please go to The Bulldog May 3rd between 5 and 7. The Bulldog welcomes dogs on their patio, so bring your best friend and support APAWS!
APAWS Garage Sale
APAWS had our garage sale Easter weekend. We raised $1,741.50! Thank you to everyone who came out and supported APAWS!
Louisiana Science Fiction Film and Costuming Festival
We would like to thank everyone who participated in the contest and festival! We raised a total of $1,023.71.

A special thank you to the groups who participated:

The winners - 501st Legion: Bast Alpha Garrison!
The Rebel Legion
USS CORSAIR
The Louisiana Ghostbusters
APAWS and The Manship Theatre Presents Star Trek II: The Wrath of Khan!
Put this on your calendar now! Online ticketing is now available - http://www.manshiptheatre.org/index.cfm?md=calendar&tmp=detail&eid=256&eiid=363 .
Manship Theatre at the Shaw Center for the Arts
100 Lafayette Street, Baton Rouge, LA
June 2, 2012
6:00 p.m. pre-show event with a 7:00 pm movie screening
Come join us on June 2, 2012 to celebrate the wonderful world of science fiction. We will be having a pre-show event starting at 6:00 pm and everyone is welcome to come out in their best science fiction costume. Just remember you still need to be able to see the movie, so don't wear anything that will prevent you or others from viewing the movie. During the pre-show we will have a Khan showdown. We will have judges to determine who can do their best rendition of Kirk's famous Khan scream. We are celebrating science fiction in general but this screening is special as two days later, on June 4th, Star Trek II will be having its 30th anniversary. So, come out to support animals and celebrate the anniversary of one of science fiction's most beloved films.
Happy Tails
We love hearing how the animals we adopt out are doing! Here are just a couple of our most recent stories. Visit our APAWS: The Journey from Rescue to Forever Home blog for more stories!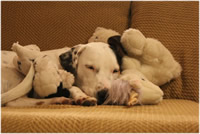 Mio (AKA Bailey) Adopted February 2012
Thank you for allowing me to adopt Bailey (now Mio which means sweet in Croatian). She has been a delight. The moment I brought her home, I treated her to as many old stuffed animals as I could find.
Read Mio's Story with lots of pics!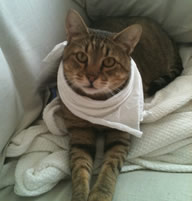 Beckett - Adopted October 2011
Beckett is a big, healthy, and happy cat!
Brady Beagle

Brady Beagle was adopted and is now named Toby. If you have forgotten Brady's story please read it! Brady had his eye removed due to a massive injury. He is very happy with his new family and looks great!
Sirius
Sirius was found wandering the streets. He is obviously starved and has had a rough time. In addition to being emaciated he is a high heartworm positive. He is safe with APAWS now and his foster mom is working to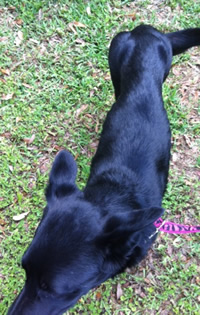 slowly put weight on him. He is terrified of new people, there's no way of knowing what has happened to him. He gets along with other dogs and even shared his dinner with a puppy!
We are saddened he had such a rough time, but hopeful he will heal both physically and emotionally.
Donors
These are our donors for the past month. We sincerely appreciate all of our donors and could not function without them.
Donations can be made through Paypal.
$500.00 - $999.00 Sustainer aka "Retriever/Ragdoll"
Claire Gremillion

$100.00 - $249.00 Contributor aka "Beagle/Bengal"
Gary Breaux
Anna Lee Himel
Jeff Schunneman
Albemarle Foundation

$50.00 - $99.00 Supporter aka "Spaniel /Russian Blue"
Casey Cangelosi
Deborah Chevalier
Angie Jeanfreau
Haley Jones
Bart Pittari
Ashkan Shaidaee
Our Lady of The Lake College

$1.00 - $49.00 Donor aka "Maltese/American Shorthair"
Mickie Abbott Lilly
Herberto Ayala
Adam Ball
Jeanette Benedetto
Erin Brush
Charlene DeRoche
Samantha Hallenus
Eric Hull
Benjamin Langlinais
Brent Normand
In memory of A.P. Rabenhorst
Matthew O'Leary
Brett Powers
Debra Smith
Kevin Tate
Caesar Taylor