November 2012
It's easy to get caught up in the commercial side of the holiday season. This Thanksgiving don't forget to give thanks for your pet(s)!
Cat and Dog Face Shirts, Tumblers and Mugs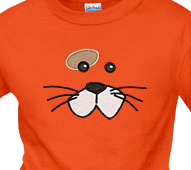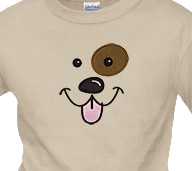 We have adorable shirts, tumblers and mugs available for order.  The cat face shirts are orange.  The dog face shirts are tan. Both designs are available as short sleeve t-shirts, long sleeve t-shirts and sweatshirts.  

Order your shirt today!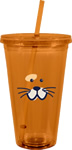 The tumblers are available in orange or clear and as a short or tall tumbler.  The mugs are orange or white.  

Order your tumbler or mug today!
Personalized Stockings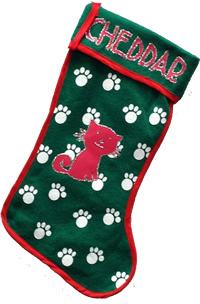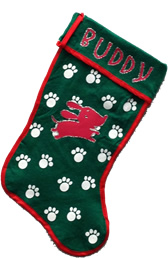 We are now taking orders for personalized stockings.  You choose the color and image for the stocking.  Our volunteers will decorate your stocking and fill it with goodies!

These options are available:

1.  Filled Stocking - large dog $12, small dog $10 and cat $10
2. Unfilled Stocking
3. Just the goodies - large dog $9, small dog $7 and cat $7

Be sure to tell your family and friends!  The unfilled stockings are great for other pets and kids.

For more information and to order your stocking click here!
Photos with Santa
APAWS is thrilled to be one of the PetSmart Charities hosting pet photos with Santa this year. Please visit the PetSmart off of Siegen December 15th and 16th to have your pet's photo taken with Santa.  We can't wait to see you!
APAWS Radisson Holiday Promotion
If you don't have enough room for all of your out of town guests and their pets this Holiday season, the Radisson Baton Rouge is offering a special 10% APAWS discount on standard room rates. In addition, the Radisson will donate $10.00 to APAWS for every reservation made with the APAWS discount. The Radisson Baton Rouge is one of the few Pet Friendly Full service Hotels in the area with a convenient location close to LSU, Downtown and major shopping. We know how important it is to have the entire family together during the Holidays so don't worry about leaving your four legged family behind. Stay with Us... Stay Together! Book your room today!
We are also working on a picture day with Santa for the whole family on December 8th at the Radisson Baton Rouge. Watch our Facebook page and December's newsletter for details.
Update on Dante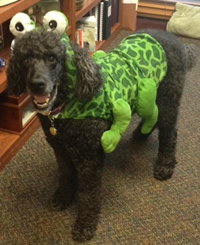 Dante, featured in last months newsletter, came through surgery with flying colors! The vet was able to get all of the tumor. Within days Dante was running and playing. The initial tests show the cancer did not spread and his chance of many more years is very good!
He even felt well enough to dress up as a frog for Halloween. See the picture to the left!
A huge thank you to everyone who donated towards Dante's surgery! We are still working to pay off the surgery, if you would like to contribute please click here.
For more information on Dante visit his page.  You can also follow him on FaceBook at https://www.facebook.com/helpsavedante
Happy Tails
We love hearing how the animals we adopt out are doing! Here are just a couple of our most recent stories. Visit our APAWS: The Journey from Rescue to Forever Home blog for more stories!
Buster - Adopted September 2011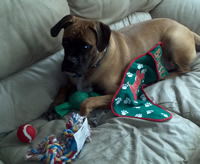 Buster has been such a joy to have in our household.  I couldn't imagine my life without him.  He sleeps under the covers with us every night (he even knows how to tuck himself in).  After doing a DNA test, we found out that he is 50% Bullmastiff and 50% American Bulldog.  In the fall of last year, Buster was diagnosed with canine Masticatory Muscle Myositis (MMM).  It is an inflammatory disease that affects the chewing muscles.  The immune system recognizes special fibers found in the jaw as foreign to the body and attacks them.  The vet started him on steroids to correct the problem.  In July, he received his final dose of steroids.  They want us to keep a close eye on it to make sure it doesn't come back, but since then he has been healthy as can be.  At his last vet appointment, he tipped the scales at 87 pounds, but I fear he is not quite done growing.  I am attaching some pictures of Buster and one with his sister, Isabelle.  He celebrated his first birthday this summer, so we had a little party for him.  I even made him a dog friendly birthday cake (carrot cake with peanut butter icing).  He didn't like the birthday hat I made him wear, but he tolerated it long enough for me to get a picture.  I am also including some pictures of him opening his APAWS christmas stocking from last year (he's about 7 months at the time).  He has recently started sleeping the closet of our computer room, I guess he likes the peace and quiet.  So he is not in time out in that picture, he just likes to hang out in there. He is a bizarre little dog, and I love him for it.
Donors
These are our donors for the past month. We sincerely appreciate all of our donors and could not function without them.
Donations can be made through Paypal.
$250.00 - $499.00 Patron aka "Setter/Siamese"
Clint Burroughs
$100.00 - $249.00 Contributor aka "Beagle/Bengal"
Margaret Joiner
Margaret Landry
T. J. Manoy
Ira Mizell

$50.00 - $99.00 Supporter aka "Spaniel /Russian Blue"
Robert Lackowicz
Danny Robinson

$1.00 - $49.00 Donor aka "Maltese/American Shorthair"
Diane Altazin
John Banks
Sharon Brown
Erin Brush
In memory of Lex Cooper
Lisa Laws
Mark Lloyd
Kevin Tate