October 2012
Halloween is a very fun time, but make sure it is safe for your pets.
Candy is a fun treat for people, not for pets.  Make sure your children know not to give Halloween treats to pets.  Also, make sure any candy bowls are out of reach of your pets.  
If you are dressing your pet in a costume, do not leave them unattended.  Your pet isn't used to wearing the costume.
Keep your pet away from the front door when trick or treaters come to the door.  Even the most well behaved pet can become frightened and bolt out the door.
For more tips visit ASPCA - Halloween Safety Tips
Pet Photography to Benefit APAWS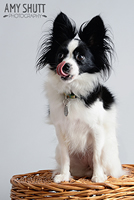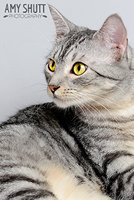 The talented local photographer, Amy Shutt, is offering 20-minute photo sessions for pets on October 27 and 28 for $50! The price includes a 5x7 print and an online gallery of 5 proofs. Half of the sitting fee and 15% of all additional print purchases will go to APAWS. This is a great opportunity to get professional photos of your furry friend and help APAWS at the same time. Amy does a wonderful job photographing our adoptable pets, and we're so thrilled she offered her talents to help us raise money, too.

Appointments are filling up quickly! Contact Amy Shutt Photography at amyshutt@gmail.com or 225-200-1895 with questions. Keep an eye on our APAWS Facebook page for updates and details, too!
Visit our site for larger pictures and available sessions!
To see more of Amy's work visit her website at http://www.amyshutt.com 

The Amazing Dante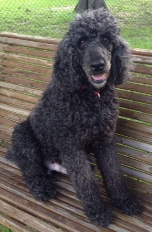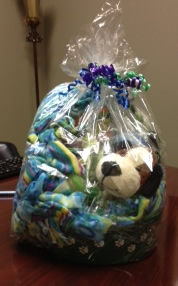 Dante was dumped at animal control by a heartless breeder when he couldn't breed anymore.  APAWS was contacted and immediately came to his rescue.  Dante came to us with a fever of 104 degrees and a cough, which the vet thought it was an upper respiratory infection.  He was treated with antibiotics and his cough got better, but then came back pretty quickly.  The vet thought it was severe upper respiratory and prescribed more antibiotics.  When the cough continued to progress, the vet decided to do a chest x-ray.  The x-ray revealed a large tumor on his lung and a biopsy of the tumor showed it was cancerous. Further testing indicated the cancer had not spread.  Dante had surgery to remove most of his right lung and some enlarged lymph nodes on Monday, September 24th.  He is still recovering from surgery and is doing great!
Dante is a very sweet dog. In fact, if you have been to an adoption day recently, you'll definitely recognize him as the very handsome black standard poodle.  Everyone who meets him falls in love.  His foster mom, Kelly, is also a cancer survivor and one of our regular volunteers.  She was already attached to Dante, but in light of his cancer diagnosis she knew that she was the best person to help pull him through.  APAWS is dedicated to providing medical treatment when available, even when that medical treatment is expensive.  Dante's care is estimated at $3,000 which includes the initial biopsy, C/T scan, surgery and aftercare.  If you would like to donate toward Dante's care please click here.
To help pay for Dante's medical bills, we will be raffling off a basket full of doggie goodies.  Raffle tickets will be available at PetSmart during adoption days.  The raffle will be held Saturday, November 3rd at 3:00pm at adoption day. If you have any questions please send an email to info@apawspets.org with "Dante's Raffle" in the subject line.
For more information on Dante visit his page.  You can also follow him on FaceBook at https://www.facebook.com/helpsavedante!
October is Pit Bull Awareness Month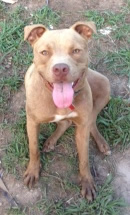 APAWS is an all breed rescue. This means that instead of focusing on only one breed we help all breeds and mixed breeds. Many groups will not help pit bulls because of their reputations. Anyone who has met Chivas or Adonis, two pit bulls recently adopted from APAWS, knows that the typical pit bull stereotype is not based on fact, but on fear.
Please take the time to review and share these pit bull facts and myths presented by 1800petmeds.com.
Christmas is Coming
It's hard to believe, but Christmas is almost here.  We are planning two holiday fundraisers - make sure and watch our website and Facebook page for details!

APAWS will be participating in PetSmart's pet pictures with Santa. These photos are an excellent way to have a keepsake of this Christmas with your pet!

We will also be selling our holiday stockings again this year.  The stockings are personalized and filled with goodies for your cat or dog (unfilled stockings are also available). We are still determining what will be available, but we will have an online order form soon!
Christmas shirts and tumblers are available for order! Orders are due 10/30/2012, we expect the shirts to be delivered mid November. Order yours today and support APAWS!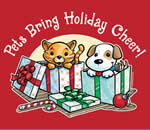 Order your shirt today!
The available options are:
Short Sleeve T-Shirt - $12.00
Short Sleeve T-Shirt Plus Sizes - $15.00
Long Sleeve T-Shirt - $15.00
Long Sleeve T-Shirt Plus Sizes - $18.00
Sweatshirt - $17.00
Sweatshirt Plus Sizes - $20.00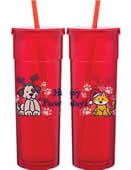 Order your tumbler today!
The 16oz tumblers are $12.00. Three colors are available:
Red
Green
Clear
Happy Tails
We love hearing how the animals we adopt out are doing! Here are just a couple of our most recent stories. Visit our APAWS: The Journey from Rescue to Forever Home blog for more stories!
Zeus is doing great! He now knows several tricks including: sit, speak, roll over, shake, fetch, lay down, and goes to his kennel on command.
Donors
These are our donors for the past month. We sincerely appreciate all of our donors and could not function without them.
Donations can be made through Paypal.
$100.00 - $249.00 Contributor aka "Beagle/Bengal"
Anna Lee Himel
Patricia Piland

$50.00 - $99.00 Supporter aka "Spaniel /Russian Blue"
Kisler Cooper
Peggy Denham
Maria Fernandez
Jose Fernandez
Jodi Willis

$1.00 - $49.00 Donor aka "Maltese/American Shorthair"
In Memory of Bailey
Jeanette Benedetto
Erin Brush
In Memory of Ann Buff
Debra Comeau
Julie Harvey
Candi Latino
Nancy Luckett
Carrol Michael
DeAnna Ray
Debra Savoie
Dawn Shaffer
Shannon Shaffer
Hayley Singleton
Kevin Tate
Ximena Velazquez