September 2012
The Baton Rouge area had our first and hopefully our last hurricane of 2012. Although Hurricane Isaac was only a Category 1, he was slow moving leaving devastation in his wake. All of our foster homes made it through the storm with no damage. Most of our foster homes, however, did lose power for several days, but that pales in comparison to those in neighboring parishes who had to deal with flood waters. We took in all the animals we could from animal control facilities forced to euthanize because evacuation wasn't an option for their animals. We are currently working on getting those animals into vet offices so they can be put up for adoption!
We hope you and your family are doing well, especially those of you hit the hardest. We also hope last month's newsletter with hurricane preparation tips was useful to you!
Pet Photography to Benefit APAWS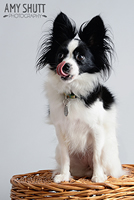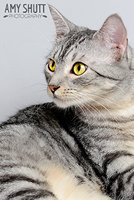 Amy Shutt Photography is teaming up with us next month for a fantastic fundraiser you're sure to love. Amy is offering 20-minute photo sessions for pets on October 27 and 28 for $50! The price includes a 5x7 print and an online gallery of 5 proofs. Half of the sitting fee and 15% of all additional print purchases will go to APAWS. This is a great opportunity to get professional photos of your furry friend and help APAWS at the same time. Amy does a wonderful job photographing our adoptable pets and we're so thrilled she offered her talents to help us raise money, too.

Appointments will fill up quickly! Contact Amy Shutt Photography at amyshutt@gmail.com or 225-200-1895 with questions. Keep an eye on our APAWS Facebook page for updates and details, too!
Visit our site for larger pictures!
To see more of Amy's work visit her website at http://www.amyshutt.com 

A Precious Story
Precious came into our group when her dad, the only human she had known, was placed in an assisted living facility. The facility only allowed him to keep one dog, so he chose to keep his 8 year old dachshund. He thought Precious would be easier to adopt out because she is only 1 year old.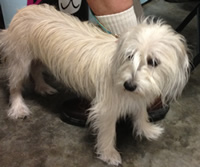 Precious was brought to her first adoption day, and like most animals there for the first time, she was terrified. She cowered in the back of her crate shaking and not wanting to look at anyone who came up to the crate. She gave one of our volunteers a warning bite (her teeth were placed on the skin, but she didn't bite down) when they tried to remove her from the crate. We were all thinking the same thing--no, one is going to adopt her.
We had been approached by a couple several weeks prior to Precious coming into the group who were looking for a maltese or maltese mix. Their beloved maltese had passed away from a long illness and they were finally ready to welcome a new dog into their home. We called the couple to let them know Precious was at adoption day. They immediately came to PetSmart to meet her. Something about her drew them both in and they spent a couple hours trying to gain her trust. Although she hadn't let them pet her, they chose to take her home in hopes that with time she would warm up to them. Fortunately, Previous's dad was able to come up and meet them. He even placed Precious in their car and told her bye. By the time they got home she had decided she was their dog! Apparently all she needed was for her dad to tell her it was ok.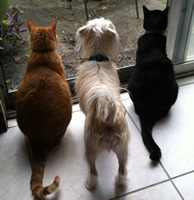 We were shocked when we received an update the next day telling us Precious had already claimed her spot on the bed. She had her first bath, cuddled in front of the TV and met her new kitty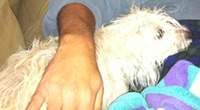 siblings. Precious continues to do well and has even started making friends with the cats.
We have lots of animals like Precious. They don't show well at adoption day so they don't get much interest. Precious was lucky to find a couple willing to give her a chance. We hope more of our shy guys are given the chance to show how awesome they are!
Special Needs - Sammy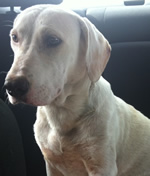 Sammy is a six month old yellow lab mix. He ran into the street in Clinton, LA and was hit by a car. The driver contacted APAWS for help. She tried to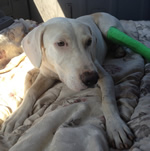 avoid hitting the puppy, but just couldn't react fast enough. She found his owner by getting a local vet to look up his rabies tag, but the owner said they gave him away to the guy down the street. The lady contacted Sammy's new owner, but the man didn't want to take him back because of his injuries. The woman paid for Sammy's initial vet care, but couldn't afford the whole treatment.  She could not bring him home because she has a dog who requires constant care and cannot be exposed to any other dogs. We are very happy she tried to help Sammy and didn't just leave him on the side of the road.
We transferred Sammy to Sherwood South Animal Hospital where they aren't sure if Sammy's leg or hip is broken, but will perform surgery to determine exactly what is going on and to repair the injury.  Sherwood South has excellent orthopedic vets - Sammy is in the best hands! His prognosis is very good.
He will need to be in foster care for several weeks to several months to allow his injury to heal. We are estimating his vet care to be over $1,000. If you would like to donate for Sammy please do so here!
A Note from Our Treasurer
Being the treasurer of any animal rescue is difficult; being the treasurer of an animal rescue who takes in special needs animals like APAWS is excruciating at times. I have been treasurer for a few years now, and for the first time ever, it feels like our head is above water. We have greatly reduced our debt. The only way we were able to accomplish this was because of our supporters!
We try to be transparent when it comes to our finances. If there is ever something you have a question about, do not hesitate to contact me directly at treasurer@apawspets.org. I place most of our financial information in the Financials section of the website. We are proud to report 98% of our money goes directly to animal care (vet care, food, etc.). The other 2% is used for indirect animal care (phone line, web hosting, etc.) Our marketing materials, banners, and most office supplies are donated by volunteers. We do not have any paid staff; everyone you see at adoption days and fundraising events is there because they choose to volunteer their time.
We want everyone who donates to APAWS to feel confident their donations are going to the intended purpose. We sincerely thank everyone for their support and hope to have many more months where we are able to pay our vets in full. We know our vets appreciate it, and it allows us to help more animals! As a reminder APAWS is a 501(c)3 charity and all donations are tax deductible. We do not receive any government money and rely solely on adoptions and private donations.
Happy Tails
We love hearing how the animals we adopt out are doing! Here are just a couple of our most recent stories. Visit our APAWS: The Journey from Rescue to Forever Home blog for more stories!
Nala (AKA Padme) - Adopted June 2012
Nala is her new name and she is doing just fine -- It only took her about 3/4 days to get used to Max and now they have a great time together.    I am thoroughly enjoying her -- when I can find her ... didn't realize Calicos blend in so well !    She does follow me around and also can be very chatty. 
Annabelle Lea and Sweetpea - Adopted June 2012
Annabelle Lea (renamed Jolie) and Sweetpea (renamed Evangeline) are doing great, they have completed our family! They were named after the Cajun paintings by George Rodrigue.
Jolie had bladder surgery to get stones removed and is healed and only has one month of antibiotics to take. They are also on a special diet so that Jolie will not have the bladder problem again. They were a little overweight when we got them and they have both lost weight, Jolie is 32 lbs and Evangeline is 28 lbs.
They are very good dogs: they don't bark (only when someone knocks on the door at night... which is a good thing) they don't beg for table food, they don't jump up on people (they do jump on the sofa, but that's fine with us), they don't bark at other dogs or cats either.
They love to relax all day and take naps on the sofa. They don't like to be in the back yard much, but they do like to put their leashes on and go for a walk with us around the neighborhood... sometimes they even jog with us for a block. They are great in the car and have been on a couple road trips to New Orleans and Lake Charles, where our extended family is.
They are inseparable and like to be by each other at all times, but they have the best individual personalities. Their favorite thing is to be around people and love attention and affection. We are so glad to have them both and can not imagine our lives without them.
Donors
These are our donors for the past month. We sincerely appreciate all of our donors and could not function without them.
Donations can be made through Paypal.
$250.00 - $499.00 Patron aka "Setter/Siamese"
Trudy Mayers
$100.00 - $249.00 Contributor aka "Beagle/Bengal"
Louise Bass
Books A Million
$50.00 - $99.00 Supporter aka "Spaniel /Russian Blue"
Lori Cunningham

$1.00 - $49.00 Donor aka "Maltese/American Shorthair"
Blair Anderson
Renee Andre
Darlene Barras
Erin Brush
Barbara Grant
Koutaro Imanishi
Gretchen Reed
Renee Sampere
Kevin Tate
Mary Thigpen