August 2010
We would like to apologize for the time between the last newsletter and this one. Our volunteers have been very busy both with APAWS and their families.
Oil Spill
As you know an oil spill occurred off the coast of Louisiana earlier this year. We are very troubled by what this means for the wildlife. We are also very upset by the number of companion animals being given up in the areas most affected by the oil spill. Families are reaching a point where they don't have enough money to pay for food or lodging, unfortunately the family pet is costing too much money. These pets are being turned into high kill animal controls with almost no hope of getting out alive. As you know APAWS is not in the best financial position and we are out of foster homes. We cannot take these animals into our program, but we can try to help the animals stay with their families. The economic hardship caused by the oil spill will eventually blow over and they will be back on their feet. APAWS has donated pet food to the families affected by the oil spill and encourages you to do so also!
Call to Former Adopters
Our newest volunteer is a social networking guru! She has created a blog titled "APAWS: The Journey from Rescue to Forever Home." The purpose of this blog is to share the stories of our adoptions. No animal rescued by APAWS is ever forgotten. Our fosters and volunteers love hearing the stories of successful adoptions. The blog is a great way to share these stories with the world. Rescue animals are just as good (if not better) as animals purchased from breeders and pet stores. Help us spread this message and submit your adoption story about your APAWS adoption to apawspetsblog@gmail.com. Be sure to include pictures! We can't wait to read the stories! We consider all of our adopters part of the APAWS family and hope you enjoy our new blog.
Pouncival - APAWS Adoption Story
We usually feature special needs animals in our newsletter, but we are fortunate to not have any new special needs animals at this time. Please enjoy this adoption story of Pouncival - featured on our blog!
It's been almost two years since my husband and I adopted our cat, Pouncival, from APAWS. They've been a wonderful, rewarding two years full of love, catnip, and a lot of snuggling.
When we met our funny orange fluffball, his name was Randy. Josh and I were in PetSmart looking around at pet supplies because we had been talking about adding a four-legged family member to our home. We debated between cats and dogs, and had finally agreed that a cat would be happier with our busy lifestyle and small apartment space. We didn't know much about cats, since we'd both had dogs growing up. We were just there to look and get some information.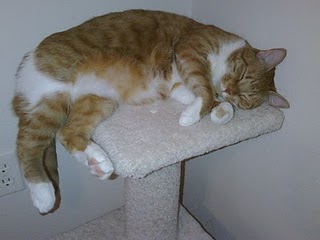 Of all the cats in the PetSmart Adoption Center, only one was paying any attention to us. He was a big orange tabby with a lovable face, a white belly and four white paws. Since he was interested in us, we moved closer. To our surprise (and amusement!), Randy started pawing at the glass with a vengeance as if to say "Take me with you! Get me out of here! I want to go with you!"
Josh said, "That's our cat."
Now, normally my husband is slow to make a decision. He likes to mull over ideas, then debate them, then think some more… and about six months later I'll get an answer from him. I asked, "Are you sure? You don't want to look around?"
"Nope. I don't need to look. That's our cat."
We filled out our application online that night. It took me forever. I gave every question a lot of thought. I think I was pretty honest that I didn't really know much about cats yet, but was very willing to learn.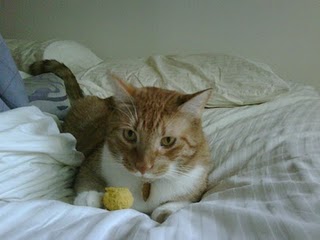 It turns out, that orange tabby was meant for us. Emily brought him to our apartment and Alisa (his foster mom) came along. Randy was immediately curious about his new surroundings. Emily and Alisa stayed for probably two hours, talking to us about taking care of a cat and offering their support if we ever had any questions.
As soon as they left, our new little boy seemed to realize we were his family. He started purring and cuddling to his heart's content. I laid on the bed reading the pamphlets they left for us, and Randy laid down right on top of everything, as if to say "You're my person now, you need to pay attention to me."
We thought about his name for a long time, and finally agreed to rename him after a character in the Cats musical- Pouncival. He is so playful, talkative, and outgoing, it just seemed to fit.
It only took a few days for me to realize exactly how much joy Pouncival was bringing to our lives. We spoiled him with the biggest kitty-Christmas we could afford that year. We snapped pictures of him every day- he was always doing something crazy. He seemed just as in love with us, too. He greeted us at the window when we got home from work, and would "meow" about his day. He wouldn't leave our sides, no matter what we were doing. He needed to be a part of everything.
Pounce means so much to me, I just couldn't forget about the people who took him in as a "shoebox kitten" when he was abandoned outside of PetSmart. I was so grateful that he was found by a no-kill rescue, and that someone had opened their heart and their home to him until we were ready to find him.
I know fostering him wasn't easy for Alisa. He is fascinated by water and will head-butt or take apart any contraption with water inside. I'm sure she mopped her floor more often than she intended to. He likes to tear apart toilet paper rolls and leave bits of paper everywhere. I also know as an adolescent, Pounce was starting to think he could bully other cats in his foster home. He's just so needy and outgoing… he's a handful!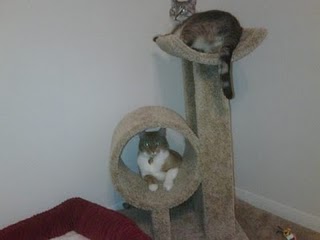 But he's perfect for us. He's our cat, and as far as I'm concerned he's ALWAYS been our cat. APAWS took care of our cat, and raised him for us. I wanted to give something back to this amazing group. So, I started volunteering.
It has been the best experience of my life! Sure, it's emotional. There are good days and sad days, and days where an animal you really connected with gets adopted… and maybe your eyes get misty and you know you'll miss them. But they just found their home! It's nothing if not incredibly happy.
I have been really humbled by the selflessness of some of the APAWS foster parents. They do something amazing. They take in the homeless, the unwanted, the sick and weak animals of this area… they nurse these little guys back to health, give them tons of love, and then they seek out the perfect home for every single one.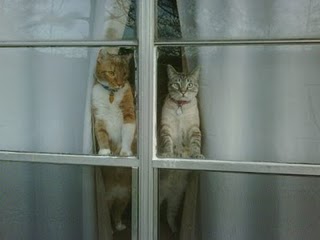 I am so happy to be part of this organization. Not only did we find Pouncival, but we adopted a second cat from APAWS last year. We thought Pounce needed a little sister, so Etcetera joined our family, too. These two cats are as much a part of our family as any human, and we love them so much.
I would love to just say "THANK YOU" to all the volunteers, foster parents, and supporters of APAWS, on behalf of Josh, Jeanette, Pouncival and Etcetera Benedetto-- and every other cat, dog, and even the occasional guinea pig looking for their perfect home.