September 2010
The kids are back in school, the weather is cooling down (a little bit) and summer vacations are winding down. This is usually the time of year families are looking to add a new furry addition to their family. If your family is ready for a new addition, or someone you know is preparing for a furry addition please don't forget APAWS and the wonderful animals we have! We have all ages, sizes, colors and temperaments. Our adoption coordinators would be happy to find the perfect animal for your family!
National PetSmart Adoption Weekend
The next national PetSmart adoption weekend is September 10 - 12. In addition to the generous coupons PetSmart provides for each adoption they usually have more coupons and samples during adoption weekends! If you have already decided to adopt this is an excellent weekend to do so. We look forward to seeing you at the PetSmart off of Siegen.
Volunteers and Fosters Needed
APAWS is an all volunteer organization. None of the people you see at our adoption days and fundraising events are paid. Our volunteers and fosters come from all backgrounds. The love of animals bond all of our volunteers. If you would like to help animals in the Baton Rouge area please consider volunteering and/or fostering with APAWS. We have many different opportunities available. Volunteering does not have to be a huge time commitment - we are appreciative of any time you can give us. Foster parents are our backbone. We do not have a building and house all of our animals up for adoption in foster homes. The more reliable foster parents we have the more animals we can save!
We are in desperate need of volunteers for our phone line. Our phone line is a voicemail system that is accessible anywhere in the country. We need volunteers to check the voicemail, return most calls (we'll let you know what to say) and route the callers to the appropriate people via email if necessary. This is something you can do from your home at your convenience!
If you would like more information on becoming a volunteer or foster parent please send an email to info@apawspets.org or visit www.apawspets.org for online applications. If you prefer to talk to us in person please stop by the PetSmart off of Siegen between 11:00 AM and 4:00 PM on any adoption day.
October Garage Sale
We will be having a garage sale in October. We are still trying to determine the location and date, please watch our website and Facebook for updated information. We already have great items donated including several nice pieces of furniture. If you have some items around the house in good condition you would like to donate please let us know! We also need volunteers to help with the garage sale. If you are interested please email Jeanette our fundraising chair and let her know.
Social Networking
Networking is important to getting the word out about APAWS and rescue animals in general. If you adopted from us please send your adoption story to apawspetsblog@gmail.com so it can be posted on our blog. We post frequent updates to Facebook and would like you to add us as a friend and encourage all of your Facebook friends to do the same! We are also send out tweets on Twitter and would love to have you as a follower. Don't forget to send a tweet to your followers asking them to follow us.
Are you a social networking guru? We have one social networking volunteer, but she could use some help. If you are interested please send an email to info@apawspets.org or visit www.apawspets.org.
George - APAWS Adoption Story
We usually feature special needs animals in our newsletter, but we are fortunate to not have any new special needs animals at this time. Please enjoy this adoption story of George - featured on our blog!
I adopted George from APAWS a little over a year ago. He had been brought to APAWS after they spotted him for adoption on Craigslist. He had only been with APAWS 1 day, so they didn't know that much about him, aside from the fact that his owner no longer wanted him because he wouldn't bond with her. Since I have cats and they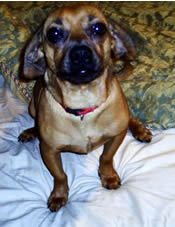 only had him a day and didn't know how he was around cats, I was told to foster him for a week and let them know.
I got him home and he was totally fine with the cats. He followed me around the house all day and when I got in bed that night, he jumped in with me and slept curled up at my side, burrowed under the covers. I knew the next morning he was home and left a message on APAWS voice mail that I wanted him forever. I never thought I'd own a small dog, but what he lacks in size, he makes up for in personality. He doesn't have problems bonding at all and LOVES people. If someone comes over, he alternates between sitting in my lap or theirs.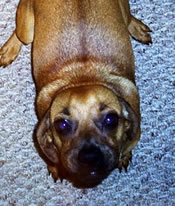 At adoption day, I'll admit, I passed him up several times because I was looking at larger dogs then I spotted this tiny, adorable dog towards the very end that I hadn't noticed before.
He's a great dog and seems to sense my emotions, and if I am upset, he never leaves my side. I've gotten to where if I go on vacation, it's hard to sleep in a bed by myself because I'm so used to him sleeping right next to me at night.
- Submitted by Jessica