November 2009
APAWS is competing for a $20,000 grant. Please visit www.theanimalrescuesite.com every day through December 20, 2009 and vote for APAWS. If you would like a daily reminder email please subscribe to our apawsclicks email list here http://apawspets.org/list/?p=subscribe.
A new online contest will be starting November 5th. This contest is sponsored by care2.com and adoptapet.com. Please visit the America's Favorite Animal Shelter site on November 5th to vote for APAWS.
Holiday Events
APAWS will be participating in Santa Paws at PetSmart again this year. We invite all of our adopted doggies to come visit Santa and have their picture taken! Although we would love to see our adopted cats, they usually don't react well to Santa and get very stressed. This is a fundraiser for APAWS and helps considerably with our vet bills. We will be the PetSmart off of Siegen Lane on December 12th and 13th. We will be at the Airline PetSmart on December 19th and 20th.
APAWS is an amazon.com
affiliate. If you will be doing any of your holiday shopping on amazon.com
please use the link in this email, or on our website. APAWS is also on igive.com which donates a percentage of your purchases made at many online stores. Your holiday shopping can provide vet care to rescue animals!
Current Fundraisers
APAWS is offering personalized Christmas stockings for your pets. The stockings are $12 for a large dog, $10 for a small dog and $10 for a cat. They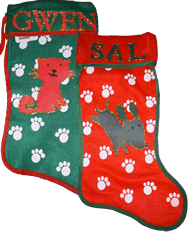 will contain toys and homemade treats! You can also make the holidays especially special for one of our foster animals by purchasing a stocking for them. Please visit http://www.apawspets.org/christmas_stocking.html to order.
Happy Tails Books is donating $5 from each book sale made through this link during the month of November. These books are filled with stories about rescue dogs. Buy a book for yourself and one for a friend! This is an excellent way to show your support of rescue and spread the word about how awesome rescue dogs are!
Small Animals Helped!
APAWS not only helps dogs and cats in Baton Rouge, LA. We also help small animals. We currently have five guinea pigs in our group and have previously adopted out a chinchilla rescued from animal control. We would like to invite you to visit our new small animal section! Our foster home space for small animals is very limited, therefore the number of small animals we can help is limited. If you are interested in becoming a small animal foster please fill out an application on our website.
Our Supporters!
Without supporters we would not be able to rescue any animals. We sincerely appreciate all support received and want to publicly thank our supporters. We are currently working on a Supporters page. If you have donated to us and are not listed, please send an email to our treasurer. In order to protect the privacy of our supporters we only list those individuals who have given us permission. If you have not donated, but would like to be displayed on this page please donate! No amount is too small!
Special Needs Animals Updates
APAWS takes in many "special needs" animals that require much more time, vet care and TLC than most other rescues. Foster homes are needed for dogs, cats, puppies and kittens, special needs and not. APAWS provides all food, medical care, anything needed, you just provide a safe and caring temporary home. Funds are desperately needed so that we can continue to help those who are in desperate need through no fault of their own. Remember, your donation is 100% tax deductible. Please go to apawspets.org and volunteer, make a monetary donation or check out our wish list...you could be saving a precious life!
| | |
| --- | --- |
| A note from Eros' foster mom - Eros is doing very well. He is growing and loves to fetch (in very limited moderation). He is on his beta blocker and is such a sport about taking it. He is a great little guy and loves attention from everyone (even my cat who is not so eager to love him). He loves the warm weather and playing in the rain. The cardiologist wants to see him back in the beginning of November. We're just waiting for him to grow some more so he has a higher rate of survival during surgery, keeping his activity level down (that's a full time job in itself), giving him plenty of love, and working on funding for the surgery. The LSU cardiologist is unsure how long Eros can go without surgery. He feels if the surgery isn't done this month he may not make it. If you would like to donate towards Eros' surgery please go here. | |
A note from Simon's foster mom - Simon is doing well and is learning what it is to be a kitten. He is playing with all of the other cats even though he cannot use his front leg. As of today it looks like the leg will have to be amputated. He feels right at home in my home and believes he is normal. I have two cats who can't use their rear legs and another kitten with a gimp back leg.
Update from Gumbo's foster mom - Gumbo is doing better. When he came to us he was a shocking pink and he is now a pale pink which means his sunburn is healing nicely. Because of the damage to his skin from sunburn and secondary infections, yeast, bacteria and demodex, Gumbo still has a long road of healing ahead of him. The little guy has had a horrific start to life but he is still a very sweet dog who loves to play and be held. Soon he will no longer resemble the abused dog we took into the group and will be ready to find his own devoted family.
Board of Directors
APAWS is a 501(c)3 nonprofit organization. Our board of directors serve year terms beginning in January and ending in December. The term for our current board ends December 31, 2009. In order for business to continue January 1, 2010 we must seat a new board prior to December 31, 2009. Our board nominations have been announced and are:

Diane Amoroso
Terri Ampurero
Michelle Dodson
Gay Grimes
Deborah Guidry
Emily Harris
Jeanette Peer
Alisa Polk
Jamie Thomason
Our current board can be seen on our Board of Directors page.