Update December 16, 2008 - Annie came to see Santa at PetSmart this weekend. All of our volunteers were thrilled to see her with hair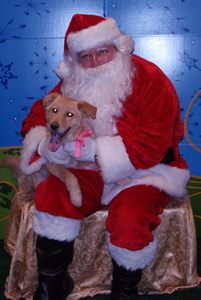 and looking like the golden retriever she is. We are still paying on her vet bills, Annie has cost our group approximately $2,000. Donations were able to cover part of it, but not all. If you are looking for a way to get a tax deductible donation before the end of the year please consider donating for Annie.
Update September 22, 2008 - Annie is now in her foster home. She is doing well considering her condition. It is amazing to the vet and all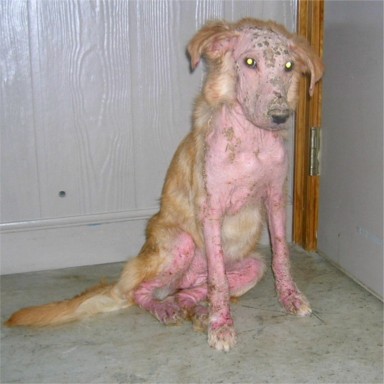 of our volunteers how much love this little girl has, especially considering her health. Her tail has not stopped wagging since her rescue. Everyone expects Annie to make a complete recovery and be a beautiful, happy dog. She is a six to nine month old golden retriever mix
Annie was found at the WBRZ news station. She was in horrible shape very close to death. When found she was covered in ants and nothing more than a skeleton covered in skin. One of the people who found Annie called a vet in Baton Rouge for help, he referred her to us. He said if anyone would help her, APAWS would. By the time contact was made with APAWS someone had contacted animal control and Annie had been picked up. One of our volunteers called animal control to let them know she was on her way to get the dog. She was warned that Annie was in horrible condition and they were going to euthanize her upon arrival. Unfortunately our animal control facility does not have the funding, space or staff to provide veterinary care for animals in this condition. The Baton Rouge area relies on rescue groups with dedicated volunteers and private donations to save the unwanted and neglected. We were very fortunate animal control released her to us in hopes we could help her.
Annie is currently at Old Hammond Animal Hospital. Her initial diagnosis shows demodectic mange with secondary staphylococcus and yeast infections. Due to the severity of the infection a very aggressive treatment must be followed and she may not survive. We are dedicated to giving this sweet girl every chance at leading a healthy, happy life. Our small group is in dire need of assistance at this time. Hurricane Gustav put many of our volunteers in financial trouble as they replace lost food, animal meds and fences. Our volunteers are focusing on getting their families (human and animal) back to normal they are unable to contribute to this little girl's care.