APAWS tries to help all animals in need, regardless of their injuries. Unfortunately, special needs animals require more time and resources than healthy animals. Our group has made a commitment to helping any special needs animal we can.
Adopted - 2015
Adopted - 2014
Adopted - 2013
Adopted - 2012
Adopted - 2011
Adopted - 2010
Adopted - 2009
Adopted - 2008
Special Needs Animals currently with APAWS and adopted this year
Darryl
Darryl was rescued in June 2014 by an APAWS volunteer. Darryl was in a puddle at Airline Hwy and Plank Rd unconscious and freezing cold. The volunteer brought him inside and began drying him with a hair dryer - Darryl regained consciousness! He was brought to the vet to be checked out - he seemed fine.

After several weeks his foster mom noticed several bumps under his skin. They seemed to be making Darryl itchy and uncomfortable. The vet removed some of the bumps and sent them to be tested at LSU. LSU said the bumps seemed to be fungal, but they weren't sure. Darryl formed more bumps and also had them removed - his illness was still a mystery to the vet!

Finally, the vet realized Darryl has a rare condition that usually affects dogs. Darryl has Pythiosis. It is a fungal infection caused by an animal coming into contact with infected stagnant water. South Louisiana is one of the few places this infection can live in the water. We are now beginning treatment hoping to give Darryl every chance possible at a healthy life. It will be an uphill battle because this disease is often fatal, especially in cats. He had his first round of blood work April 8th in preparation to start the two medications recommended. The blood work and medications will be about $600. If you would like to donate for Darryl's care please visit this link.

We hope the disease was caught early enough and Darryl will live a healthy, happy, long life!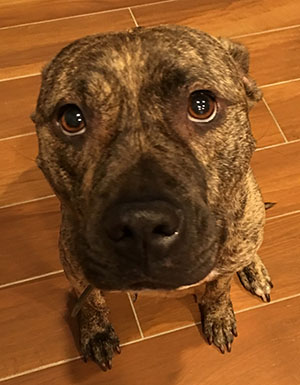 March 21, 2016 update - Jolie is now out of surgery. The injury was worse than the doctor expected. He had to make a deeper groove in the bone than he expected. He also had to repair a torn meniscus. She will remain heavily drugged for the next 24 hours, possibly the next 48 hours. Due to the extent of the injury she probably will not be able to run again.

We are hopeful the surgery will have her out of the constant pain she's experienced and will let her lead a happy, almost normal life. There is a sliver of hope that she will prove the doctor wrong and run again!

Original story - Jolie was rescued by APAWS as an adult. She is a brindle pit bull and is now approximately two years old. She was adopted to what we thought was a great home. We were contacted by Tangipahoa Animal Control - she was at their facility. We are so thankful they contacted us - we brought her back into our program. We brought her to the vet and confirmed she was in good health and ready to be adopted. We placed her in a foster to adopt home to make sure she was a good fit for that home.

After a few weeks her foster dad contacted APAWS and said Jolie needed to go to the vet, she had a lump on her knee and wasn't acting like herself. We authorized a visit with Dr. Liz at Old Hammond Veterinary Hospital. Dr. Liz took x-rays and performed an exam, she then contacted APAWS and said Jolie needed to see an orthopedic specialist. She has arthritis in her knee and a piece had broken off.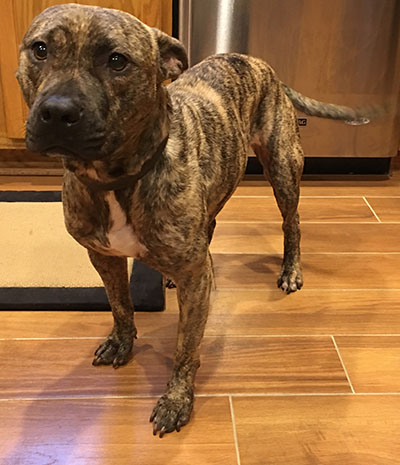 APAWS was able to get an appointment with Dr. Mauterer at Baton Rouge Veterinary Specialists. Dr. Mauterer confirmed that Jolie has arthritis in her knee and a piece had broken off. He feels as a puppy she broke that knee and while healing the arthritis developed. Because of the injury to the knee and the pain she was in Jolie overcompensated with the opposite knee and now has a luxating patella. Jolie needs surgery on both legs, one to clean up the arthritis and the other to fix the luxating patella. The estimated cost of surgery is $3500.

Jolie has been in incredible pain for almost her entire life. She never gave us or any of the vets she saw any indication of pain so we never knew to x-ray her legs. Dr. Mauterer said he has never seen anything like this in several years of practicing veterinary medicine, but he also said she is one of his sweetest patients. Please help us provide Jolie with the surgeries she so desperately needs. Any donation helps!

Donate today!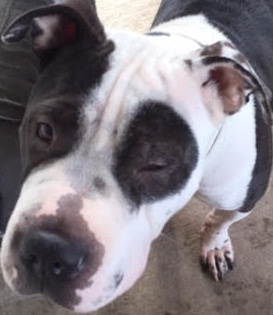 Petey is approximately one and a half years old. The vet thinks he is a pit bull/shar pei mix. He was found at a corner tied to a pole and very thin. He has put on weight in his foster home and is a very sweet boy!

The vet diagnosed Petey with entropion, this is a genetic condition in which a portion of the eyelid is folded inward. The eyelashes irritate and scratch the surface of the eye leading to ulcers. At the direction of the vet we have tried multiple eye drops and ointments hoping to give him some relief and avoid surgery. Unfortunately all of the noninvasive treatments have not been effective for Petey. Petey is in need of surgery to correct the entropion. After surgery Petey is expected to lead a healthy, pain free life!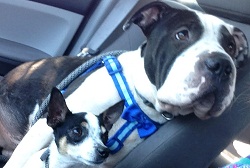 Robin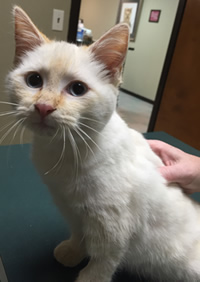 Robin was found the evening of January 1st 2015. An APAWS volunteer heard what sounded like a cat fight outside and went to see what was going on. She found little Robin with bloody paws and dragging his back feet. She immediately brought him to Baton Rouge Pet Emergency Clinic where the vet found puncture wounds indicating a dog or coyote attack. Although there were three noticable bite wounds in his small body no major organs or arteries were injured. He is currently recovering from the trauma and has no use of his back legs and is not able to urinate on his own. We hope as the swelling goes down he will regain use of his legs and be able to potty on his own.
This little boy was definitely lucky an APAWS volunteer stopped the attack and he received immediate vet care. He will be in foster care until he regains his ability to urinate. If he doesn't regain this ability he will remain in foster care permanently.
Robin is about 4 months old and very sweet!
March 2013 Update - Sirius has one of the worst cases of hip dysplasia the vet has ever seen. He is not a candidate for a total hip replacement because his hip is so deformed. We are working with the vet now to figure out the best course of treatment.

August 2012 Update - Sirius is more sociable and not emaciated. Unfortunately, we received very troubling news about him. He has the worst case of hip dysplasia seen by Sherwood South Animal Hospital. The vet described his condition as having no balls in the hip sockets. This is a very painful condition. Now that we know about the condition we are treating him with daily pain medication. His medication currently runs around $90 a month. If you can assist in paying for his medication we would appreciate it! Donate for Sirius All donations are tax-deductible.
Sirius was found wandering the streets. He is obviously starved and has had a rough time. In addition to being emaciated he is a high heartworm positive. He is safe with APAWS now and his foster mom is working to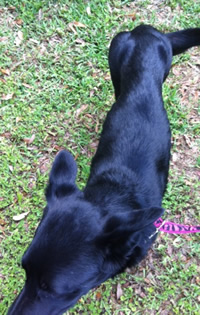 slowly put weight on him. He is terrified of new people, there's no way of knowing what has happened to him. He gets along with other dogs and even shared his dinner with a puppy!
We are saddened he had such a rough time, but hopeful he will heal both physically and emotionally.