Update - September 14, 2012
Sammy did well during surgery! The vet determined both his leg and his hip were broken. They repaired his injuries and as you can see from these pictures Sammy is very happy to be feeling good again! His vet says he should be fine. His new foster dad reports that Sammy has not had one accident in the house and is very sweet!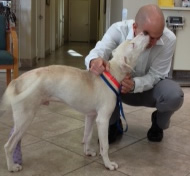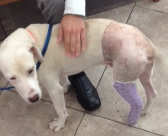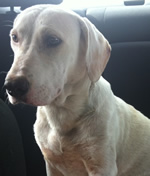 Sammy is a six month old yellow lab mix. He ran into the street in Clinton, LA and was hit by a car. The driver contacted APAWS for help. She tried to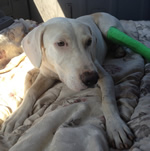 avoid hitting the puppy, but just couldn't react fast enough. She found his owner by getting a local vet to look up his rabies tag, but the owner said they gave him away to the guy down the street. The lady contacted Sammy's new owner, but the man didn't want to take him back because of his injuries. The woman paid for Sammy's initial vet care, but couldn't afford the whole treatment.  She could not bring him home because she has a dog who requires constant care and cannot be exposed to any other dogs. We are very happy she tried to help Sammy and didn't just leave him on the side of the road.
We transferred Sammy to Sherwood South Animal Hospital where they aren't sure if Sammy's leg or hip is broken, but will perform surgery to determine exactly what is going on and to repair the injury.  Sherwood South has excellent orthopedic vets - Sammy is in the best hands! His prognosis is very good.
He will need to be in foster care for several weeks to several months to allow his injury to heal. We are estimating his vet care to be over $1,000. If you would like to donate for Sammy please do so here!