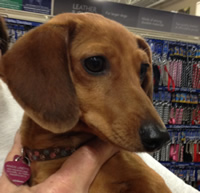 APAWS was contacted by a volunteer with Houma animal control about a very cute miniature dachshund who was to be turned into animal control. They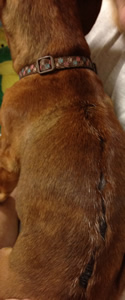 asked that APAWS take her so she did not have to go to animal control and most likely be euthanized. Initially we were told the family purchased the dog for their children and the children were no longer taking care of her. We were trying to arrange a foster home and vet visit when we found out the story was much worse than previously thought.
Chloe had fleas and her family decided the best way to get rid of them was to put her outside for the sun to bake them off. When that didn't work they decided to pour insecticide down her back. She is currently suffering from a severe sun burn and a very severe chemical burn where the insecticide came in contact with her skin.
Chloe is safe now in a foster home. She is very shy, but seems to be warming up quickly.