Annie - Adopted 2011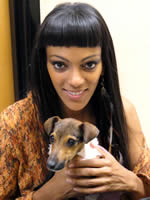 Annie was found by one of our volunteers in a dumpster. Our volunteer saw someone putting what looked like a puppy in the dumpster, she went to see and it was Annie. Annie was immediately brought to the vet and given a check-up, vaccinations and spayed. She came through surgery and seemed perfectly healthy for a day. She then became very ill and had to be hospitalized for several days. The vet isn't completely sure what she had, but we do know it was a very bad infection. We almost lost her, but this little fighter pulled through!
After being cleared by the vet she was put up for adoption. She was immediately adopted by a wonderful family - we always love a happy ending!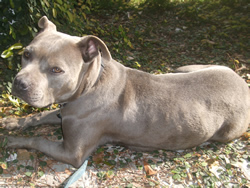 One of our volunteers found Aurora wandering into a busy street. She was a little timid, but very sweet. We immediately checked for tags or a microchip and found neither. No one responded to our ad when we tried finding her family. We put her into our adoption program after no one came to claim her. When she had her first vet visit we learned that she is very high heartworm positive. She has started medication to prepare for heartworm treatment. Treatment is expensive and means she will be in a foster home for several months. If you would like to help with Aurora's heartworm treatment please consider donating.
Aurora is doing very well in her foster home. She was thin at first, but is eating well and is not food aggressive. She is a little a jealous of her foster mom's other dogs. We think she is jealous because she has not previously had much attention from humans and she does not understand that there is enough love for everyone.
- Adopted October 2011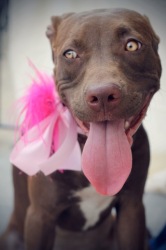 Cocoa was found tied to a trailer with an inner tube. We aren't quite sure why they tied her up with an inner tube. They willingly gave her to our volunteer. She has cuts on her neck, we think from the inner tube, but they don't seem to bother her much. She is scared of new people and situations, but we're sure with lots of love her physical and emotional wounds will heal.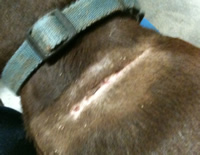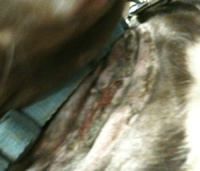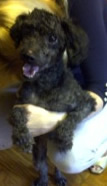 Doogie was living happily with his family when he wandered out of his yard into a neighbor's yard. The large dog living in that yard acted defensively and attacked Doogie. We want everyone to understand the dog wasn't being aggressive, he was protecting his family from the strange dog. The attack ripped out part of Doogie's neck and part of his ear. His owners thought he was going to die from his injuires so they chose to not take him to the vet.
Doogie is a fighter and his wounds began to heal on their own. Due to the size and severity of the wound it became very infected and developed a large abcess. At this point the owners realized Doogie wasn't going to just die and brought him to animal control to be euthanized. The intake coordinator felt terrible for all this little boy had been through and saw something special in him, he was brought to the vet to see if he could possibly be saved. It isn't enough to say he was in bad shape, the abcess on his neck was larger than his head and his ear was hanging off. Doogie had surgery to repair the damage and the vet wasn't sure he would pull through. He pulled through the surgery and spent a month with the vet staff recovering. When our volunteer met him he still had a large scar on his neck from surgery and his ear was sensitive where it was stitched back on. He had also developed a bed sore from laying in a crate all day. He stole the volunteer's heart and she brought him home for the rest of his rehabilitation.
Everyone at animal control had fallen in love with him and wanted him to find a true family who would love and care for him for the rest of his natural life. We expect him to have a permanent scar on his neck, but once his fur grows back it won't be noticeable. He also has a small limp on his front leg due to the severity of his injuries, but he doesn't seem to notice it. The vet thinks it is just a tight muscle and with exercise it will go away over time.
His foster mom reports he is the happiest, most loyal dog ever! He is always smiling and just happy to be around people who love him. The M.P. at the end of his name comes from Animal Control. When he arrived at animal control he was in a lot of pain making him cranky. He was nicknamed "mean poodle." After his surgery that was changed to M.P. because he was so sweet, they couldn't call him mean anymore. He is one and a half years old and one of the sweetest dogs his foster mom has ever met. We are sickened that his family was so careless to not seek proper care for him, but we know the perfect family will come along!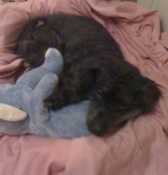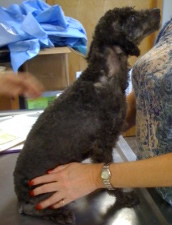 Kyra was rescued by one of our previous adopters. The adopter couldn't keep her, but got her to the vet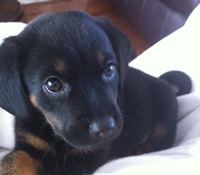 immediately and then called us. We took Kyra in on May 21st.
Kyra was found in the middle of the road and looked like she had been hit by a car; luckily, this was not the case. Unfortunately, she wasn't in the greatest shape. She was dehydrated, alnourished, and had an infection in her mouth. She is only four weeks old and very fragile. Her new foster parent brought her home and has been nursing her back to health. Kyra is now doing better and should be available for adoption in a few weeks!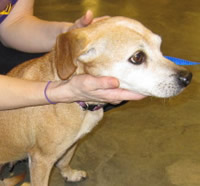 A police officer found Missy on the Mississippi River Bridge and brought her to APAWS. We immediately noticed that something was wrong with her leg. It sticks out behind her and she does not seem to have any control over it. At first we thought it was a birth defect; however, her first vet visit proved this to be untrue.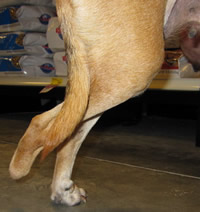 The toes of her paw had been amputated when she was younger. The vet commented that whoever did the amputation did a wonderful job. Her leg sticks out because her knee was broken in a previous accident and Missy did not receive any vet care to set it correctly. She will be taken to an orthopedic specialist to find out if the leg can be repaired or if amputation is necessary.
Missy is about two years old and we believe she is a beagle mix. She is a little timid, but very sweet. She is adjusting well to her foster home and does not seem to be bothered by her injury.

Roscoe and Rosie are young terrier mixes rescued by a kind lady who saw someone shooting at them. Apparently they appeared on a man's front porch and because there was no animal control in his area he was told to shoot them. They were rescued and brought to the vet. The vet contacted us to see if we would place them in our adoption program. We agreed and spay/neuter appointments were made. The pups seemed to be in good health and around 8 months old.
After their spay and neuter the vet realized they were free bleeders. The incisions would not stop bleeding. Bloodwork was done and everything looked ok except for the PCV levels. Basically the pups lacked the necessary coagulants in their blood to allow the blood to clot. The vet administered vitamin K and began researching what could cause this. After much research it was determined the new rat poison is the most likely cause. The old rat poison would cause kidney and/or liver failure and almost certain death. The new rat poison causes the animal's blood to lose its ability to clot. This isn't apparent through normal tests and the situation would most likely correct itself in one to three months.
Unfortunately these pups didn't have time for their heart to replenish their blood supply with healthy blood cells. Rosie's bleeding was much worse than Roscoe's, most likely due to the invasive nature of the spay. Although everything was tried including a blood transfusion Rosie passed away the evening of her spay. Roscoe remained under observation at the emergency clinic for several days. Roscoe has stopped actively bleeding and his PCV level is on its way up! He will be going home soon.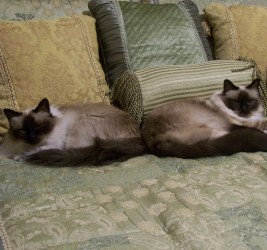 September 29 Update - Both Toby and Sassy had a full blood panel and exam. They are both very healthy! For their ages they are in amazing health. Two of our volunteers will be bringing Toby and Sassy to their new home October 8th. We can't wait to get them home!
Sassy and Toby are a mother and son pair of senior Birman cats - 15 and 13 years old. Their former owner passed away and a family friend took them in, but could not keep them. We recently received the perfect application for these wonderful cats. The lady is retiring this coming month, and already has a 13 year old Birman. She knows the breed and she wants to help these two babies stay together. 

The only problem is that this wonderful new forever home is in Decatur, Alabama. APAWS usually does not do adoptions that are farther away than we would normally be willing to drive ourselves, but how often do you get a great applicant for 13 and 15 year old cats to stay together?  We will not put cats on a transport - they will travel in our cars sitting right beside us so we can ensure that they arrive safely and that their new homes are good homes.

Sassy and Toby's foster mom needs help with the travel costs for this trip (gas and an overnight stay). She will drive straight there, meet the lady at her home and then return.  Any money raised beyond the cost of the travel and lodging will go directly toward Sassy and Toby's veterinary bills. They recently had a checkup and blood work done to make sure they are healthy before taking such a long trip. Please consider donating to Sassy and Toby's travel fund!

As a reminder all donations are tax-deductible! Donors will be listed on our Supporters page and in our newsletter. Thank you so much for helping these two senior cats get to their forever home! If you have any questions, please contact us at info@apawspets.org.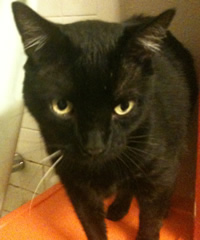 We were approached in PetSmart by a woman with a cat in a carrier. We don't usually accept animals in PetSmart because we can't accept an animal without knowing which foster home they are going to. Our volunteers tried explaining this to the woman, but she didn't care. She made comments saying she would either bring him to animal control or just dump him outside. He is approximately 6 years old and a four paw declaw. Our volunteers told her what his chances would be in our already overflowing animal control and asked for a little time to try to work him into our program. She never showed any emotion and seemed like she would just dump him in the parking lot. Fearing for his safety our cat foster chair took him from her. The plan was to get his vet records and put him into the adoption center at PetSmart within the week. As usual, the plan had to be changed after observing him.
After getting him to his foster home it was clear this poor little guy has suffered some abuse. He growled and hissed for two days straight. He showed aggression towards his foster mom's legs, it seems he had been kicked. Towards the end of the second day of fostering he jumped across the room towards his foster mom while hissing and growling. She just knew he was about to attack, instead he gave her a head bonk and rubbed against her. As soon as she petted him the hisses and growls were replaced with purrs. He really is a sweet boy, he just wasn't sure how to ask for attention. We have no way of knowing what this big boy has been through, but he has quickly won our hearts. His foster mom is currently working with him to get him ready for adoption and we hope he can go to the adoption center soon. We are giving him as much time and attention as he needs and can't wait for him to find the loving home he deserves.