APAWS tries to help all animals in need, regardless of their injuries. Unfortunately, special needs animals require more time and resources than healthy animals. Our group has made a commitment to helping any special needs animal we can.
Adopted - 2012
Adopted - 2011
Adopted - 2010
Adopted - 2009
Adopted - 2008

Special Needs Animals currently with APAWS and adopted this year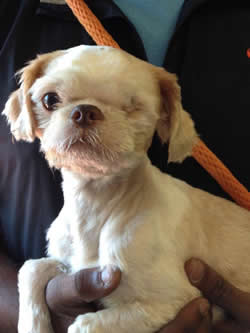 Donate for Captain Jack
Captain Jack was hit by a car and left for dead on the side of the road. No one stopped to help him, but someone called animal control to pick up the dead dog. When animal control arrived they realized Captain Jack was still alive! His injuries caused a broken jaw and the loss of an eye. After being treated by the vet he was brought to an APAWS foster home where he received lots of love and attention.
The morning of October 21, 2013 his foster mom heard him cry. She went to see what was wrong and found him trembling and crying. Unsure of what happened she immediately put him in the car and rushed him to the vet. On the way to the vet he vomitted and continued to tremble, she feared he was having a seizure. He cried in pain all the way to the vet and in the vet's waiting room. After the exam the vet concluded he is suffering from a bulging disc. Most likely this is due to being hit by a car. He may have stretched or moved in a certain way that caused it to finally pop out. The vet could not move it because the disc is compressing his spinal cord and causing him tremendous pain. He is not paralyzed and the injury seems to be confined to the one disc.
He is currently being hospitalized at Sherwood South Animal Hospital. We are hoping with rest and medication for the pain the disc will go back into place on its own. If it doesn't he will have to undergo surgery. The hospitalization is estimated to cost $500 to $700. If surgery is necessary the cost will be close to $3,000. Please donate to Captain Jack's care!


Cheyenne was rescued after being hit by a car. She suffered major injuries to both back legs requiring two separate surgeries to fix the damage. She is expected to recover fully! Please visit The Creole for a detailed story on this special girl.

Donate for Cheyenne


Deets was rescued by Old Hammond Veterinary Hospital https://www.facebook.com/oldhammondveterinaryhospital. He was found tied to a tree and apparently had not had food or water for over a week. He weighed four pounds and was almost dead. When Dr. Eastin examined him she was unsure if he could be saved. He had a ruptured eye due to the dehydration, very poor blood profile numbers, was missing most of his fur and was covered in scabs and abscesses. While she was trying to decide if it would be more humane to euthanize him, he used the little bit of energy he had to give her kisses. At that point she decided he wanted to fight and she would fight for him. She began immediate and aggressive care including repairing his eye, fluids, medication and treatment of his scabs and abscesses which were caused by a severe flea allergy. He seems to be able to see out of the repaired eye, there is still a chance he could lose it, but we are hopeful it will continue to heal. He is already up to five pounds! He is a very sweet boy and will make a wonderful addition to a family! He loves to be held and cries when left alone. He is currently being fostered until he is well, but should be available for adoption in a few weeks.

We would like to thank Old Hammond Veterinary Hospital and Dr. Elizabeth Eastin for their compassion and care for Deets and all animals in their care. Dr. Eastin paid for his initial vet care which totaled over $2,800!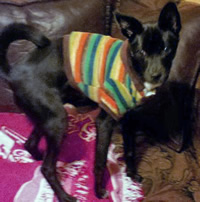 We were contacted by a woman needing help placing a dog, Julius. She found Julius as a young puppy and cared for him for about a year. He has a few quirks which made caring for him while working two jobs too much for her to handle. Julius turns in circles, has difficulty walking in a straight line and can't take treats from his right side. Luckily, Julius doesn't seem to know anything is wrong! He is not in any pain and doesn't seem as concerned with his problems as everyone else.

Julius has obvious neurological problems, but the root cause of those problems is a mystery. The list of possible causes is very long. First the vet took x-rays of his skull to see if there was any trauma or deformities of the skull. The x-rays showed a normal skull, but the vet did notice when under anesthesia his right eye did not face the same way as his left. This further indicates a neurological problem. The next step is a MRI at LSU. We are trying to raise money to have this test done. We hope the MRI will show what is causing Julius's problems and give us a hint on how to help him.
August 2013 Update - Lil Boy was pulled from a high kill animal shelter the day he was scheduled to be euthanized. He was brought to the vet for his first check-up and was diagnosed with demodex mange and pulmonary stenosis. Without immediate intervention he would die in a short time. He had to have heart surgery to correct the pulmonary stenosis. He pulled through the surgery like a champ! He showed immediate improvement after surgery and continues to heal each day. The vet tech who cared for him initially when he was diagnosed has decided to adopt him. He is definitely a very lucky boy!

Donate for Lil Boy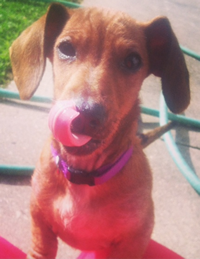 We rescued this little guy from a high kill shelter. He was purchased as a Christmas present, but when he lost his hair his family turned him into animal control. The hair loss is caused by demodex, a highly treatable condition. During his exam the vet noticed a heart murmur - a grade 5 out of 6. In a young dog this is very bad news. He was brought to the cardilogy department at LSU to confirm the grade and determine a cause. He has a deformed valve leading to increased pressure in the heart. This is a life threatening condition. He is currently on beta blockers. Once his demodex and secondary skin infections are cured the vets will determine when he can undergo surgery.
Pearl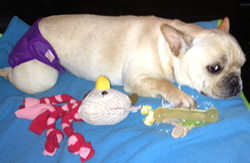 Update 5/29/13 - Pearl had surgery today and came through with flying colors! The vet expects a complete recovery. She should be able to leave the hospital in a few days.

This precious 2 year old french bulldog was surrendered to APAWS on April 13, 2013. The next week she had a vet check-up to make sure she was healthy. Before her appointment her foster family noticed that something was wrong. Although she was clearly housetrained, she would unintentionally wet herself anytime she felt the slightest pressure on her bladder.
Our vet examined her and found:
She was sunburned. French Bulldogs have delicate skin and should not be left out in the sun for long periods of time.
She has a hereditary condition, ectopic ureter, that is causing her incontinence. This condition is uncomfortable for her and can only be corrected through surgery.
There are only two clinics in the Baton Rouge area capable of conducting this complex surgery. We have chosen Sherwood South Animal Hospital where the surgery will be performed by two of the best vets in Baton Rouge. The estimate for this surgery is $1,500. Please donate for this beautiful girl!

Please donate today to Pearl's surgery! You can either donate through Crowdrise, or directly through paypal.com. Any donations made through paypal.com will be entered on Crowdrise so the total raised is accurate. Please note there are fees associated with both Crowdrise and paypal.com. A $10 donation made on Crowdrise will result in APAWS receiving $8.50. A $10 donation made through Paypal will result in APAWS receiving $9.38.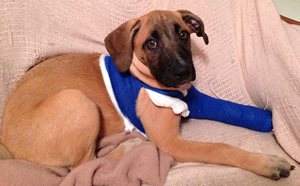 Update December 13, 2012 - Sophie came through the surgery with flying colors! She was able to go home the day after surgery. The excellent vet care received prior to surgery made it very easy for the surgeon to repair the break. She should have a full recovery!
Update December 10, 2012 - Sophie is having her surgery today! The vet graciously reduced the normal fee for this surgery to $850. We are all hoping for the best outcome for this little girl.
Sophie's mom was rescued by a nice lady. She couldn't find mom's owners and was in the process of trying to find mom a home. Just a few days after being found mom gave birth to a litter lab mix puppies. The woman who found mom gave her a safe place to care for her puppies until they were old enough to be adopted. While waiting for them to be old enough she contacted APAWS for assistance. We agreed to assist her in finding adopters while she fostered. Some of the puppies have been adopted, the others are now waiting for their forever homes.
Sophie and her brothers and sisters were left inside while their foster mom went to work Tuesday, December 4th. While she was at work, the puppies decided the sofabed looked like a great chew toy. When their foster mom got home she saw the sofa in pieces, then she saw Sophie. Sophie wasn't running with her brothers and sisters and seemed to be in pain when her leg was touched. Her foster mom thinks she injured her leg while they were taking apart the sofa.
She was brought to the vet, but they could not do an x-ray at that time. She was given pain medication and her leg was wrapped to keep it from moving. Today she was brought to a different vet and the x-ray was done. The x-ray showed a break through the growth plate. Unfortunately, this type of injury requires surgery done by an orthopedist. We are trying now to get an appointment with an orthopedist. Sophie was given more pain medication and a new splint. Sophie is only 14 weeks old and needs surgery as soon as possible!
We don't have an estimate yet, but since the expected treatment is surgery with pins placed in the leg we are certain it will be expensive. Please donate to Sophie's care!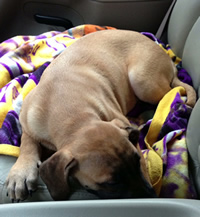 Yada was brought to APAWS infested with fleas. Her previous owner could not afford to treat her for the fleas and did not seek help until she was completely

infested. Unfortunately her flea infestation not only caused her to lose most of her fur, but also made her very anemic. In addition to the flea infestation she was also infested with several types of intestinal worms. She also has demodex and yeast and bacterial infections of her skin. In addition to all of her medical problems she is also undernourished. It appears she was not fed regularly and ate several servings of food her first night. She is finally learning that a shortage of food will never be a problem again and now takes her time when eating.
Although she has gone severe abuse and neglect she is learning to trust humans. In the two weeks she has been with us she has grown a little fur, she no longer has any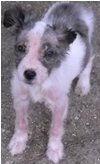 intestinal worms and is not anemic! Treating her severe skin infections will take a long time. We aren't sure of her breed so we must be very cautious when using medications. We fear she may be a breed that is intolerant to Ivermectin so her demodex must be treated with regular dips at the vet instead of the faster Ivermectin treatment. We are certain this young puppy would have died if she would have stayed in her former home another week.