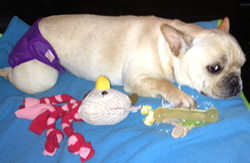 Update 5/29/13 - Pearl had surgery today and came through with flying colors! The vet expects a complete recovery. She should be able to leave the hospital in a few days.

This precious 2 year old french bulldog was surrendered to APAWS on April 13, 2013. The next week she had a vet check-up to make sure she was healthy. Before her appointment her foster family noticed that something was wrong. Although she was clearly housetrained, she would unintentionally wet herself anytime she felt the slightest pressure on her bladder.
Our vet examined her and found:
She was sunburned. French Bulldogs have delicate skin and should not be left out in the sun for long periods of time.
She has a hereditary condition, ectopic ureter, that is causing her incontinence. This condition is uncomfortable for her and can only be corrected through surgery.
There are only two clinics in the Baton Rouge area capable of conducting this complex surgery. We have chosen Sherwood South Animal Hospital where the surgery will be performed by two of the best vets in Baton Rouge. The estimate for this surgery is $1,500. Please donate for this beautiful girl!

Please donate today to Pearl's surgery! You can either donate through Crowdrise, or directly through paypal.com. Any donations made through paypal.com will be entered on Crowdrise so the total raised is accurate. Please note there are fees associated with both Crowdrise and paypal.com. A $10 donation made on Crowdrise will result in APAWS receiving $8.50. A $10 donation made through Paypal will result in APAWS receiving $9.38.